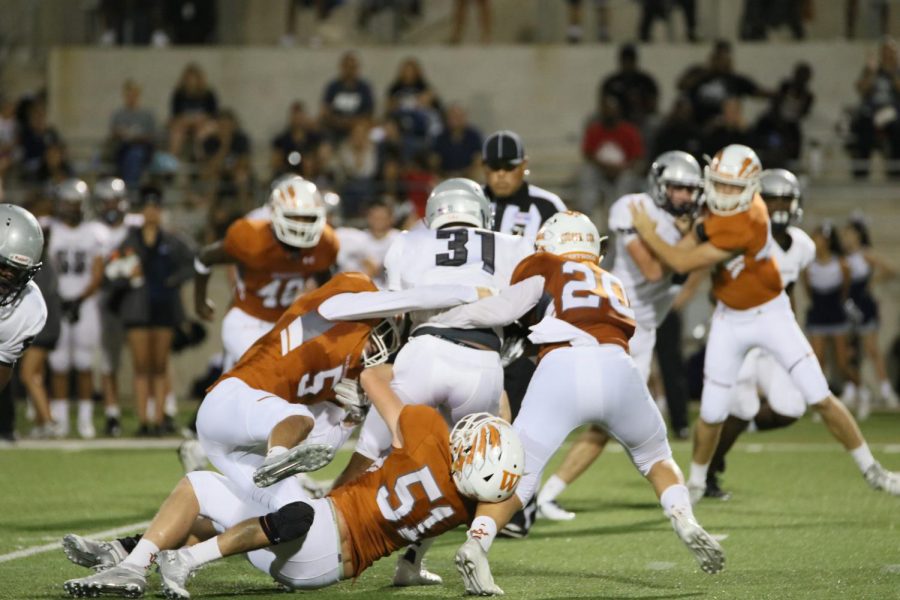 Photo By Stephanie Shih
Varsity Football Blown Out 64-14 To Begin District Play
In rainy conditions and with a thunderstorm looming close to the Kelly Reeves Athletic Complex, the varsity football team began district play with a crushing 64-14 loss at the hands of the Hendrickson Hawks on Senior Night. The Warriors were thoroughly dominated on both sides of the ball for most of the game, and the deficit was too much to overcome for Coach Anthony Wood's side as the Hawks scored 51 points in the first half alone to push the game out of reach for the Warriors.
The game started out rough for Westwood, as the Warriors' explosive offense was consistently stopped by the Hendrickson defense, while the Hawks' offense scored 24 points in the first quarter. Things turned from bad to worse, as Hendrickson tacked on 27 more points before the end of the first half. The Warriors were held to 13 total yards of offense in the first 24 minutes of action, as Hendrickson's defense proved to be suffocating.
Things finally started to get going for the Warriors in the second half, with Mario Debs '19 breaking off a 32-yard run. Mohan Hegde '19 and Nate Anderson '21 added on 14 and 17-yard catches, respectively, and RJ Martinez '21 finished off the Warriors' first scoring drive with a one-yard touchdown run with about three minutes left in the third quarter. In the fourth quarter, both sides put their backups into the game, allowing different players to get playing time. After a fumble recovered by Kam Colvin '20, Tavon Ousley '19 made the most of his playing time, leading the Warriors to another touchdown early in the final quarter of play with a 2-yard quarterback keeper to make the score 14-64, where it would remain.
"We just have to come out a little stronger in the first half. If we would've played the way we did in the second half in the first half then we would've won for a fact," Ousley said.
On offense, Lynden Jones '20 was a bright spot, collecting receptions throughout the game, highlighted by a remarkable 19-yard catch-and-run in the first quarter. On the defensive side of the ball, Demetrius Jones '19 had a few key pass breakups and two blocked field goals, and Will Clitheroe '19 racked up tackles throughout the game. Robbie Jeng '21 also had a busy night, as the sophomore was called on as punter several times.
"We didn't do as good as we could've," Ethan Brown '19 said. "We're gonna fix what we can and come out next week. I think we can improve more by coming together as a brotherhood instead of thinking of ourselves as individuals on a team."
The Warriors will look to forget this loss and recover when they go on the road to face off against Vista Ridge on Sept. 21.