Warrior Band Welcomes New Associate Director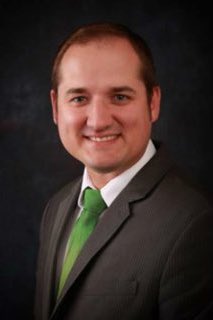 Mr. Brandon Winters accepted the Associate Band Director position at Westwood High School, transferring from his previous position as director at Hays High School.
Mr. Winters was previously a marching tech at Westwood (while working full time at Mendez Middle School) in 2014 for the show "Fore" and is now back full-time. He helped propel the Warrior Band to the UIL State Competition four years ago.
"I was an assistant band director at a middle school while I was 'tech-ing' at Westwood so [Mr. Jack Green, Mr. David Jennison, and Mr. Thomas Turpin] understood that I had the knowledge to be a director. My role as a tech was still very much considered more of a director role because they gave me that trust and responsibility," Mr. Winters said.
Mr. Winters also marched in the Cavaliers Drum and Bugle Corps in 2008, which helped him gain a lot of insight about the marching band setting.
"[The directors] knew that I had marched drum corps and had a lot of knowledge marching band-wise, so they weren't afraid to allow me to jump in and make edits to the show," Mr. Winters said.
The transition from marching tech to associate band director has gone very smoothly for Mr. Winters.
"The cool thing is that coming back, as far as going from tech to director, the only difference is the title, and I have my own office," Mr. Winters said.
Mr. Winters is looking forward to having a bigger stake in the program.
"It is exciting that I have more weight put on my ideas now because instead of me working for the program, it is now partially my program," Mr. Winters said.
Mr. Winters explains the difference in the overall dexterity of the past and present Warrior band.
"I feel like we have better skill than they did back then," Mr. Winters said. "I feel that the students are now able to march better, they are at a higher level playing wise, and the program has just gotten better."
The 2014 show "Fore" and this year's show, "Celestial Motions," present different advantages and challenges.
"'Fore' was a very easy concept and the judges got it right away, and I think that's why everyone liked it is because it was so fun," Mr. Winters said. "Everyone was doing really dark shows that year, so they could just watch our golf show and laugh. This year it is much more aggressive with 'Celestial Motions' but it's a lot more intricate and has the potential to be way more entertaining than 'Fore.'"
In addition to being a director on the marching field, Mr. Winters also built relationships with the students in the program off the field.
"A part of who I am is very personable," Mr. Winters said. "I'm not afraid to tell other people, including students, my life story and what I've done, so that helps open up the door for relationships."
Even though there were band director positions open at other successful high schools in the greater Austin area, Mr. Winters' goal was always to return to Westwood.
"I'm very competitive, so yes I want to do well, and yes I want to win, but choosing my job wasn't to chase down a program that was winning already," Mr. Winters said. "I am much more concerned with the students that are here and how they act, the parents and their support, and a big deal was the people who work here [on staff]. I knew everybody that worked here had the same goals in mind and had a very strong work ethic, and it's important to me to be part of a team that can work together and support each other 100 percent."
For the rest of the 2018 marching season, Mr. Winters hopes to help Westwood make State again for the second time in band history, and to continue making meaningful connections with the students and staff around him.