Freshman Volleyball Vanquished By Vipers 2-0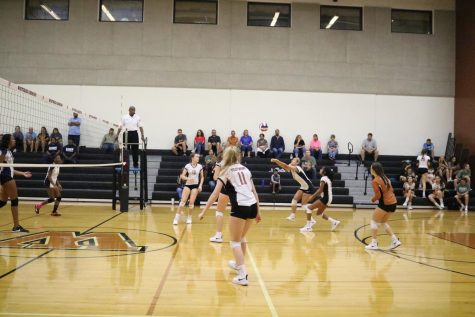 In their Homecoming game, the freshman volleyball team lost to their opponents, the Vandegrift Vipers, on Oct. 19.
The game began in the small gym with a lot of energy from both teams and the crowd. The Warriors began the first set with strong serves, but the opposition quickly ruled over the score. The ball would often be misinterpreted as someone else's, which resulted in many missed opportunities for the Warriors to score points. Sumedha Jayagopal '22 showed off a strong serve, but the Warriors ended up losing the first set 8-25.  
"I think we didn't communicate as much as we should have, especially in the back row and with any short balls that went over," Militzy Gremillion-Llanos '22 said. "I think the setters did a really good job getting the saves."
During their second set, the Warriors began playing with more energy than the first and kept up the points in the beginning. The energy from the players, though, soon lessened as the Vipers kept amping up the scoreboard. The Warriors gave strong serves, but the team failed to keep up with the ball while it was in their court, which resulted in the ball being left for the ground. The Vipers soon caught up their points, which left the Warriors to lose in the second set, this time with a score of 9-25.
"Our serve-receive is really bad, we need to work on that," Shawna Rogers '22 said. "So, if we got better at passing serve-receive, we probably would have still lost but it would have been a closer game."
The team will play their next game against Vista Ridge on Tuesday, Oct. 23 in the Small Gym.