Swim & Dive Set Records at Region, 11 Advance to State
Eleven swimmers will represent the Warriors at the State Swim and Dive meet after a triumphant run at the Region III-6A Championships on Feb. 2 and Feb. 3. Competing in one of the strongest regions in Texas, these swimmers make up the largest group head coach Matt McBrearty has ever brought for the Warriors.
"You look at last year's Regional qualifiers and we lost a huge majority of them, so we were kind of a new team," Coach McBrearty said. "For this group to lose all those seniors and then to somehow fight and do what they did couldn't be more perfect. It's fitting for a group of kids who did things the right way with the right attitude."
There are two ways for athletes to qualify for the final round of competition. Finishing among the top two in their event guarantees a ticket to State. However there are also call-ups for swimmers outside of the top two; the eight fastest times in the state will also advance.
In the first event of the meet, the girls' 200-yard medley relay, Grace Bradford '20, Jackie Liu '22, Evelyn Ngo '19, and KyAnh Truong '20 captured second place finish to automatically qualify. The boys' team was unfortunately disqualified — among the relay team: Joshua Louie '20, who was also DQ'ed in his next individual swim.
However this not deter his resolve. In his final individual race, he jumped from his fourth-seeded time in the 100-yard butterfly to second place, losing only to senior Ethan Riser's school record-setting swim.
"[The DQs] were a pretty crushing defeat, but I just felt like that I could push through all of that," Louie said. "The 100-fly was definitely my thing to go after. I felt like I needed to pick up my game a little. I knew I was behind but it was just a feeling that this was going to bring me to State."
The girls' 100-yard butterfly race shared a similar story of redemption. After a disqualification in the district competition last year, Ngo clinched the second place title to qualify for State.
"It's really rewarding because last year I got DQ'd at Districts and I was supposed to make State but I didn't," Ngo said. "This year, I made it through Districts, made it through Regionals and got second in our region. I [also] dropped .6 seconds and I haven't dropped in a year."
Truong continued to show her dominance in the water, nabbing second in the 50-yard freestyle and receiving a call-up after a third place finish in the 100-yard freestyle. She also anchored the 200-yard freestyle relay (Ayame Castel '22, Abbey Truong '19, Ngo) to finish first and break the school record.
Both the boys' 200-yard freestyle relay and 400-yard freestyle relay advanced to State through call-ups. Riser, who is a member of both relay teams, received an additional call-up in the 200-yard individual medley after placing fifth — successfully moving on in all four of his events.
"State's kind of funny; it's icing on the cake. You relax and go and just give everything you got," Coach McBrearty said. "It's so much harder to get out of our district and to get out of our region than it is most other places in the state, probably any other place in the state. [This team] accomplished more than anyone I've ever coached, so it's really neat."
The Warriors will look to finish on the podium and set school records to conclude their season at the State meet at the Lee and Joe Jamail Texas Swimming Center on Feb. 15 and Feb. 16.
Leave a Comment
About the Contributor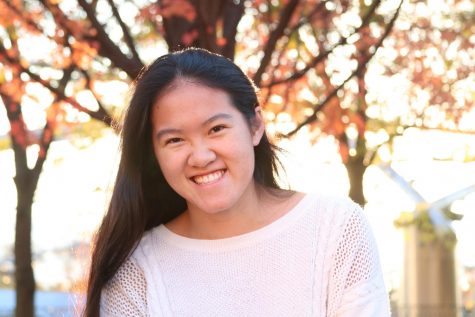 Emily Lu, Editor-in-Chief
I've always been a storyteller, and I fell in love with journalism as an outlet to express my voice and share stories. When I'm not in the newsroom, you...