JV Girls' Soccer Beat the Tigers 3-0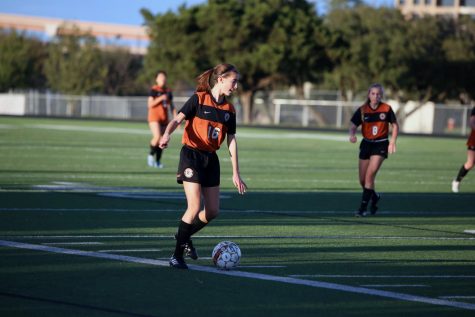 On Tuesday, March 12, the JV girls' soccer team took on the Stony Point Tigers for their last home game of this season, winning 3-0.
The game began with both strong offense and defense from the players. With help from Izzy Brown '22's quick movement across the field and strong kicks from Anita You '22, the Warriors stayed ahead of their opponent. In the last minute of the first half, Maya Berdeja '22 missed by a close call.
"Hard work actually pays off and us putting so much effort into our practices finally paid off and we're just so happy," Gracie Heinlein '20 said. "We should improve on just simple passes, communication in the back. We actually played so well and we ended up being successful and that's what made it really special."
The second half of the game was where the Warriors really gave their best effort. Brown proved this by making the team's first goal of the game within the first couple of minutes. After a corner kick, Emma Goolsbey '22 made a successful goal kick, leaving the scoreboard 2-0, in the Warrior's favor. The Warriors continued to make smart passes with the ball, resulting in more open kicks. After a pass from Katelyn Woodruff '21, Ella Moss '22 was able to score the last and final goal, leaving the Warriors with a winning score of 3-0 against the Tigers.
"I think it's great for us to get a win," Goolsbey said. "We didn't get to play Stony Point the first time because it got cancelled because of the weather, so it was really nice to be able to play them, especially since it's near the end of our season and we want to end with wins."
The JV girls' soccer team will play their last game of the season on Friday, March 15 at Cedar Ridge High School.