JV Softball Clawed By The Lions 7-4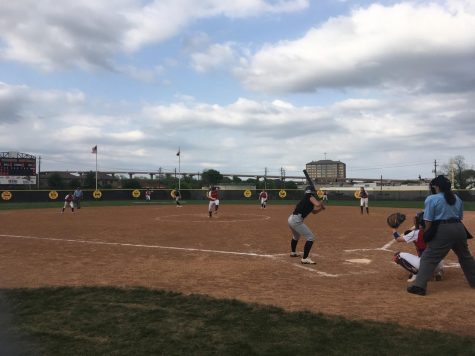 The JV girls' softball team took on the Leander Lions on Friday, April 12 in one of the last games of their season, and lost 7-4.
"The game went well overall and we had a fighting chance," Lydia Harris '22 said. "In the beginning and end we weren't fighting strong [enough], but we have improved a lot as last game we lost 13-3."
The Warriors began the game with weak defense, allowing Leander to slip through and score four runs. They attempted to fight back when they were offense with Angelina Rendon '20 making it to second base, but they fell short and weren't able to score any runs. The Lions started off strong in the second inning, scoring a run on their second batter, but the Warriors regained control of the field and stopped the Lions from scoring any further points. Harris started the Warriors' offense on a hopeful note for the Warriors by making it to second base on her first hit. However, Leander responded by catching Emma Marsden '21 and Katherine Yan's '22 hits and the inning ended when Teddie Hall '22 struck out, ending the inning 5-0 for the Lions.
"I felt that I did good defensively and made some good plays," Kaylina Martinez '22 said. "We could have done better offensively, though, and hit more balls."
The fifth inning began with the Lions making it to third base, but the Warriors' strong defense resulted in two consecutive catches afterwards. The Lions managed to fight the defense, and scored one run before the inning ended with a batter striking out. Martinez brought the Warriors' back into the game, by scoring the first run for them at the beginning of the team's offense. Rendon redeemed her previous attempt at a run in the first inning, by scoring a point after Martinez. Madison Clark '21 and Bella Gallardo '21 added on to the Warriors' streak by scoring two runs as well, ending the inning with the Warriors shrinking the gap 6-4. The sixth inning featured a catch by Hall and persistent defense by the Warriors, with the Lions only scoring one run. The Warriors attempted to overcome the three-point difference in the last inning, but fell short with multiple batters striking out, and ended the game 7-4 for the Lions.
"We could improve on starting the game faster so we aren't always playing catch-up," Yan said. "We definitely need to gain confidence, use our heads, and put our practice to use."
The Lady Warriors will take on the Stony Point Tigers on Tuesday, April 16.