New Club Days For Girls Holds First Meeting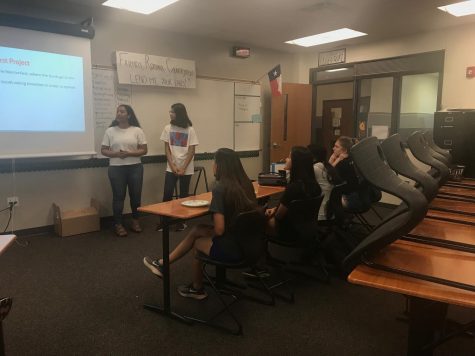 Eager students filled English teacher Ms. Stephanie Crugnola's room to attend the first meeting of Days For Girls on Wednesday, April 10. The newly formed club is a charity chapter of the global Days For Girls organization, in which students can raise awareness of and provide access to clean menstruation products for low income women. The club was founded by students Ayesha Middya '20, Anna Huang '20, Elin Park '21 and Diya Rajon '22.
"I am so excited for Days for Girls. At my old school, I ran a local Girl Up chapter and we did incredible things. We raised over $4,000 for one fundraiser where we bought bikes for girls in the Philippines so they could get to school easily," Middya said. "This is a really important topic to me as I believe girls deserve to be treated equally. The larger organization as a whole is a wonderful, non profit organization that really helps girls in impoverished countries, and when I learned that it was about periods, it only made sense to pursue it."
At the first meeting, an overview of the club, its purpose, and election information were given. The room buzzed with excitement as students grabbed snacks and signed in to the first meeting. The four founders explained the activities the club would be participating for the rest of this year and in the future.
"The first meeting was incredibly successful thanks to all of our supportive members. Thanks to Ms. Crugnola's support, our meeting went smoothly," Park said. "Overall, I believe our club is ready for success in the upcoming years, and hope to make an impact [in] the world."
The club will have a booth at Warrior Fest, where they will be selling brownies. Basic activities of the club next year include fundraising efforts through selling wristbands and using the funds to supply pads in the girls bathrooms as well as donating to the larger Days for Girls organization.
"I believe that the Warrior Fest is a great opportunity to spread awareness of our club, since it's still fairly new," Park said. "Simultaneously, our funds will support the amazing Thirst Project. Selling brownies is an easy method to connect to other students at Westwood during the festival."
Days For Girls aims to provide period kits for low income women and girls while spreading awareness about the struggles many women endure worldwide. The club also focuses on educating women about menstruation.
"I feel that our Westwood Days For Girls goal is kind of vague since it's a new club, but we will definitely plan out a detailed schedule for next year. Also, I feel that the Westwood chapter goal really aligns with the Days For Girls mission statement. I found making the club an interesting but stressful experience because it was tough finding a sponsor and meeting all the deadlines. I'm excited to see what the club will achieve in the future," Huang said. "I think this club has a lot of potential because from our first meeting I could tell the members are [already] very close with each other. With such a close connection, I'm sure we will make a difference not only at Westwood but also in the community."
Meetings will take place after school in room D1309 the second Wednesday of the month. Students can join the club by visiting the website or simply attending the election meeting on Wednesday, April 24.