District Implements New Clear Bag Policy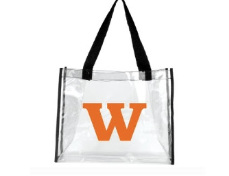 A district wide clear bag policy has been implemented for large scale events at the Kelly Reeves Athletic Complex and Dragon Stadium. There are certain qualifications for a clear bags such as they cannot exceed 12″ x 6″ x 12″. One-gallon clear plastic freezer bags, and small clutch bags or purses that do not exceed the size of a hand, are also accepted. Because of this, organizations such as Westwood Band, Football, and Track have started selling clear bags.
"It seems normal to me [because] I have experienced [the clear bag policy] for the last couple years at the University of Texas at Austin," Assistant Principal Mr. Adrian Ramiez said.
The policy changes how Mr. Ramirez feels about students' safety, providing a calming effect on administration during the game.
"Instead of looking at every backpack or large bag as a possible threat, I can focus on other things such as behaviors, and most importantly, the game and our student section," Mr. Ramirez said.
Along with changing administration's worries, this policy will help ensure the actual safety of students.
"This policy is important because it creates yet another obstacle for those wishing to inflict harm on others," Mr. Ramirez said. "I also think sometimes the feeling of safety goes a long way in easing stress and anxiety."
The policy is fairly easy to implement, as game watchers can always leave bigger items in their car or at home.
"After that first initial adjustment period, I don't think [that] there's really any disadvantages[to the policy]," Principal Dr. Acosta said.
However, the student body has mixed feelings towards the possibility that the policy will spread to inside the school itself.
"For places that have high crime rates, they do this at schools in the area, but I think at our school if they wanted to improve the security, they would use metal detectors or something like that," Sean Lin '22 said.
A clear backpack policy would impose a major inconvenience for students, altering what their everyday routine would look like. Some also think it would take a toll on students learning if it is implemented in the future.
"Sometimes people keep personal things in their backpacks and with clear bags everyone would be able to see them, but it does help protect our schools," Gabbi Wallace '22 said.
Varsity Football has their next game at Kelly Reeves Athletic Complex on Thursday, August 29th where the clear bag policy will be in place.