Mr. Mason Nash Joins Science Department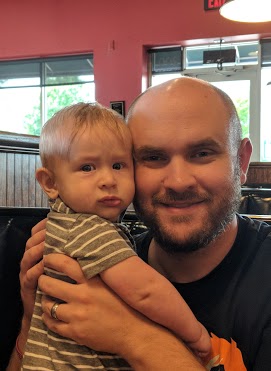 Mr. Mason Nash joined the school's faculty to teach On Level and AP Physics II for his sixth year of teaching. He had previously taught in Northern Dallas, but grew up in the Austin area and decided to return to his childhood home, to teach at the school he had always heard impressive things about.
"My experience over there was very good, I developed really good relationships with my students and I had a lot of fun, I hope to continue similar relationships here," Mr. Nash said.
Mr. Nash had initially been an astronomy major at the University of Texas at Austin, before adding physics, he hadn't initially planned to be a teacher, but was approached to try the university's new teaching program for free.
"Once I developed my love for teaching, I decided to stick with the physics teaching degree," Mr. Nash said. "There were different concentrations in physics so I chose teaching and dropped astronomy."
Although his original passion was astronomy, physics became more interesting to him as he grew after being inspired by his own high school teacher.
"I always liked logic problems and I was good at math in school. I took physics my junior year and had a really great teacher, we did a lot of projects that made it really fun," Mr. Nash said. "Physics is a way to explain how everything works in the world, and I always had questions about why things work how they do, and physics is the answer to all that."
Mr. Nash enjoys golfing, when the weather allows, and video games. His love of video games is something he can bond with students over.
"I feel like I can relate to students a bit better than some other teachers, at least as far as what they're interested in, such as video games," Mr. Nash said. "Being there to talk with students and help them with other things, not just problems they have in my class sets me apart from other teachers."
At home the teacher has a son who's nearly one year old, but at school he prefers to teach older students.
"I've never been great at dealing with little kids so I always wanted to teach more mature students, but I also like to teach more difficult subjects, which comes along with teaching high school," Mr. Nash said.
Mr. Nash hopes that he can offer a unique learning environment for his students, as well as be there for them personally.
"My teaching philosophy would be to always have a safe and welcoming environment for students to learn and explore on their own and drive their own learning," Mr. Nash said.
Even though Mr. Nash hasn't been teaching here for long, he can already tell he enjoys his new job and plans to stay.
"So far teaching here has been really great, all the students have been very nice and everybody's been super helpful," Mr. Nash said. "It's quickly starting to feel like a home."