Removals from Cheer Spark Allegations of Title IX Violation
Cheer parents are organizing to bring a Title IX complaint to the school board. Title IX is a federal law that prohibits discrimination on the basis of sex in any federally funded education program or activity. 
Over the past month, a total of 10 cheerleaders have been expelled from the cheer squad in full swing of football season.  Due to evidence submitted anonymously, eight cheerleaders were removed because of vaping, while two quit to show solidarity with their friends. The ex-cheerleaders have claimed that they were held to higher standards than other male athletes, thus the Title IX complaint.
The ex-cheerleaders also alleged that the evidence presented for their removal was from before they signed the new behavioral contract for the 2019-2020 school year. They said that they should be held accountable to the standard that was in effect when the pictures were taken, which would have resulted in probation, not removal. The removals sparked outrage from ex-cheerleaders and their parents, who were convinced that the punishment did not fit the transgression. 
"
Someone has been sending in anonymous photos.
"Over the last few weeks someone has been sending in anonymous photos -some clearly having been dug up from friends of cheerleaders, private phones, some from years ago, to have the girls removed," cheer parent Trish Baizer said. "There is a massive gender double standard as well as the issue that they are holding the girls retroactively to a new 'zero tolerance' contract they signed in July."
The 2019-2020 Round Rock Independent School District (RRISD) cheer handbook states that any "violations of the RRISD Code of Conduct will be addressed in accordance with the campus handbook and administration." The campus handbook prohibits students from possession or use of any type of tobacco product, electronic cigarette, or any other electronic vaporizing device, while on school property at any time or while attending an off-campus school-related activity. RRISD also has an Extracurricular Code of Conduct, which applies to cheer, which states, "This Extracurricular Code of Conduct will be enforced with all students grades 7th -12th participating in extracurricular activities regardless of whether school is in session, regardless of whether the student is directly involved with the extracurricular activity at the time the prohibited conduct occurs, regardless of whether the extracurricular activity is in-season, and regardless of where or when the conduct occurs."
"
As long as you violated the Code of Conduct while you are on the cheer team, then the Code of Conduct applies.
"As long as you violated the Code of Conduct while you are on the cheer team, then the Code of Conduct applies. In this particular situation when they're talking about referencing the cheer handbook, that's exactly what we're referencing," Dr. Mario Acosta said, "in combination with the Round Rock ISD Code of Conduct, in combination with the UIL Code of Conduct, and so on. It's not that one takes precedence over the other. You're operating under this combination of rules."
To several girls, the anonymously submitted evidence seemed suspiciously designed to eliminate varsity cheerleaders. 
"
I don't feel like I need to be a part of a team that is seeking to target people.
"I knew that my friends were being targeted to be kicked off the team," Bailey Trigg '20 said. "By who[m] we don't know, because there were so many anonymous things going on. So I quit, to keep myself safe [emotionally speaking]. And because I don't feel like I need to be a part of a team [that] is seeking to target people or have coaches who wouldn't fight for them when they know something's wrong."
Cheer coach Pamela Rembowski declined to comment.
"The rules are completely different for cheer versus any other sport," one cheerleader said. "This is like a one-and-done kind of thing for cheer, which is just not the same for any other sport. It's only cheer who does that kind of thing."
Because of how the cheer handbook compares to the athletic department handbook, some cheerleaders have raised the issue of gender discrimination, claiming that male sports at school were not and are not held to the same standards as cheer. The cheer team that started the year with 21 members was pared down to 11. For remaining cheerleaders, the shifting dynamic left them shaken.
"It's a very unsettling feeling, knowing that part of your team is completely gone," Taylor Sandlin '20 said. "Especially because of the connections that you have with those girls, and especially me being a senior. Some of these girls that were seniors, it kind of rips out my heart because I've been with them for years cheerleading. And some less than that, but they're still — I mean, they were — still a part of this team. We all made bonds. It's just a tragic situation. However, everyone's trying to move on, because we can't sit here and just fester on it."
For some, moving on wasn't an option, not with a Title IX complaint in the works. 
"We have spoken to our lawyers, and one of the things about Title IX that is critical, is that it's applied in situations where you have identical male and female situations and you're discriminating against one of the gender groups," Dr. Acosta said. "There is no cheer equivalent on the male side. Title IX would apply here if we had a male cheer squad, and they were vaping, and I said, 'Okay, you guys are good. You're going to get suspended for a week. But ladies, you're vaping, you're off the team.' There we would have ourselves a Title IX situation. I know that some people are wanting to make a comparison with athletics, but it's a completely different organization that has male and female equivalencies. Cheer is a standalone organization that has no male equivalents."
"
Cheer is a standalone organization that has no male equivalents.
At Westwood, vaping hit the scene in January of 2019, with the administration only recently preparing to address the phenomenon. According to Texas Public Radio, 1.3 million high schoolers started vaping in 2018. New cases of vaping-related lung diseases are reported on the daily, which has sickened nearly 1,300 people and killed 26 in the past week according to the Centers for Disease Control (CDC). 
"By the end of last school year, I felt better about what I knew [about vaping] and what my team knew," Dr. Acosta said. "You guys knew smoking is killer. Then here comes this vape thing that tastes like bubblegum, or fruit, or whatever. It appeals to young people because it seems more lighthearted and playful, almost like a candy. Now we've got all these kids across the country dying. I think if we can just get you guys better educated, I think we can put a stop to this in a in a good way. We're beginning to address this and flex gives us the opportunity to have more dialogue with you guys."
The Parent Teacher Student Association (PTSA) will hold a presentation about E-cigarette use and vaping on Wednesday, Oct. 23 at 7 p.m. in the library great room.
Leave a Comment
About the Contributors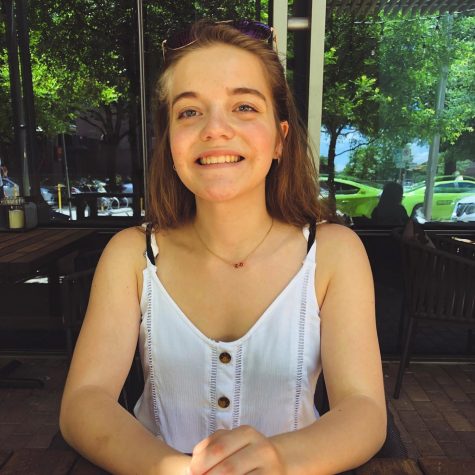 Clementine Larrouilh, Horizon Editor in Chief
This is my third year on press, and sadly, my last. When I'm not editing stories or managing reporters you can find me scrolling through Twitter, doing...
Emily Malone, Photographer
Photographer for Westwood Student Press. I'm a senior. In my free time, I like watching Hulu or Netflix, listening to music, and hanging out with or texting...