SunDancers Host Clinic Event for Elementary School Students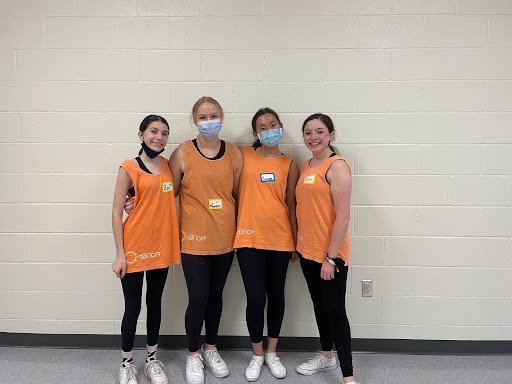 By Ashna Karthik
October 11, 2021
On Saturday, Oct. 2, the SunDancers held a clinic for elementary school students to perform with them at the football game on Friday, Oct. 8th at the Kelly Reeves Athletic Complex. They were able to learn their dances, practice, and have fun with the SunDancers. 
Scheduling for the event was a success, with over 70 kids showing up ready to learn. From 9 a.m. to 12:00 p.m., they danced getting ready for the halftime show.
"We got here at [around] 8:30 and then the kids started to arrive. We played a whole bunch of games and before that, we learned the dance that we are going to perform," Meredith Strain '23 said. 
Though the event was a  first for everyone, this new opportunity went well for all participants.  
"I think it's running pretty smoothly. There are going to be some kinks in it, but I feel like everyone is having fun and the kids are really enjoying learning the dance," Social Officer Susan Hamilton '23 said. 
The kids and dancers both enjoyed the preparation for the halftime show, working hard to learn and clean up their dance. Though the atmosphere was fast-paced and hectic, the performers kept going.
"It's a lot of fun to get to know them more and see them try their hardest. They always put [in] so much effort, and it's really fun to see how much fun they have with it," Becca Hendricks '24 said. 
The clinic was an opportunity for bonding between all the performers, as they got to know one another through dance, games, and much more. It facilitated a safe area to be themselves and express their feelings.
"It's fun to get to hang out with kids and get to know everyone's personality because they're all really different," Zoe Bellomio '24 said. 
The clinic was a success for everyone, putting all the dancers hard at work. With so much to get ready for and jitters in the air, all the performers keep up the positive atmosphere.
 They also cheered on one another and encouraged everyone around them until the very end.
"It's a lot of teaching kids and getting to know them, making sure they are having fun. That's really like our number one job, just making sure they have a good time," Hendricks said.
For more information about the SunDancers and their performances, you can click the link here to visit their website.