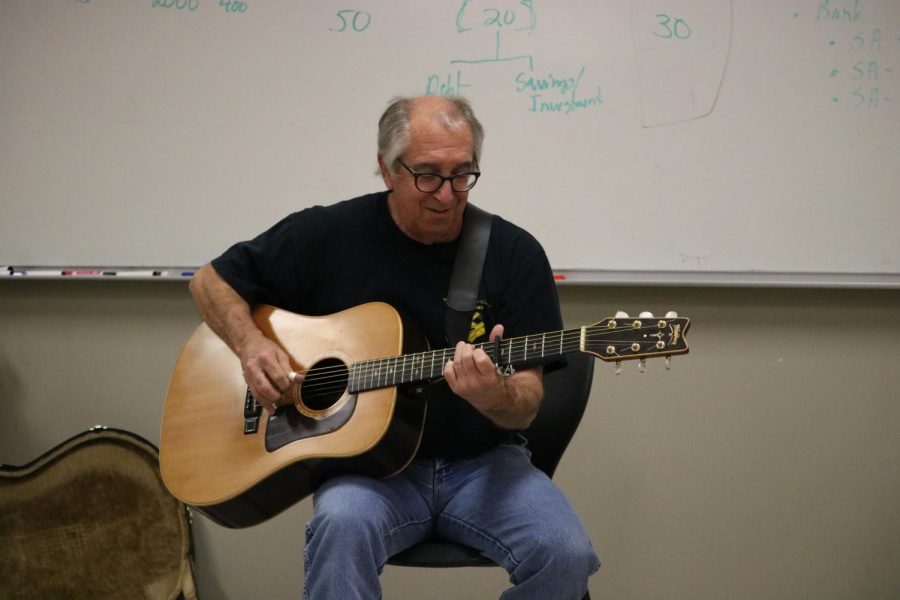 Photo By Nashitha Azeez
Friday Flex: Folk Musician and Westwood Substitute Teacher Mickey White Discusses Experiences and Career
Former musician and current substitute teacher Mr. Mickey White was interviewed about his musical career by Mr. Bray on Friday, Dec. 3 for a Fun Friday Flex session.
White was asked about numerous life experiences, including his decision to drop out of his college education at the University of Texas (UT) to pursue music. 
Mickey White's dream to be a musician began after he saw others perform in clubs around Austin, and quickly found a connection with the music network by traveling to other cities to pursue gigs. White loves to travel, and when he was required to travel with numerous musicians, including rock and country singer Lucinda Williams, his enthusiasm for his job only multiplied.
White also talked about how guitar picking influenced his playing style to become a mix of southern country and soft rock music, and how watching better musicians and replicating their style gave him a better appreciation for the ability to fingerpick on a guitar. White also spoke of how watching other musicians and diligent practice improved and sharpened his skill to fingerpick. Soon enough, White became known locally as one of the best pickers people had ever heard. 
The interview ended with White showcasing his talents on the guitar for the whole room, showing proficiency in both his guitar technique and his country singing, which is still at a very high level after all this time. White played a love ballad that heavily involved guitar chords and melodic vocal sequences.
White also recently released a memoir titled Another Mickey: Ruminations of a Texas Guitar Slinger on June 22, 2021.