SunDancers Celebrate Newest Members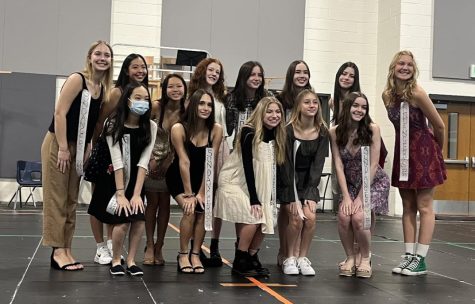 The audition process began on Tuesday, Nov. 30 for SunDancer hopefuls and ended on Thursday, Dec. 2. The combinations were taught in three days with the mock audition acting as a trial run for dancers to practice before they auditioned the next day. Results were posted on Friday, Dec. 3. 
Current SunDancers helped by teaching combinations, dancing in the background, and providing feedback to help when they were in front of judges.
"I am a manager right now, and I think everyone did really well," Lizzie Williams '24 said. "It was really fun dancing with the group since I don't get to do it often."
The process to be a SunDancer started with filling out an application and understanding the expectations of becoming a part of the team. 
"I have been wanting to be on the SunDancers since I was in fifth grade," Sophia Stone '25 said. "I would give anything to be on the team."
During the audition, the dancers learned combinations that would test their ability to remember steps and signature SunDancer moves. These included technique, jazz, and contemporary. Each dancer had their unique skill set and these were showcased throughout the audition.
"My favorite part was the hip hop combinations, [as] they were the most fun," Williams said.
After auditions were held, there was a new SunDancer ribbon pinning ceremony on Friday, Dec. 10. The new recruits were announced, and current SunDancers welcomed them to the team. The ceremony gave parents the opportunity to take photos of the whole team. 
"My favorite thing about being on SunDancers is the community," Faye Merritt '23 said. "I'm just super excited to welcome the new members to our community and all of our traditions."
The teachers join new students as they become a part of the SunDancers. The community was excited about the new members.