Well-Dressed Warriors Amaze Audience During Annual Pageant
Mr. Warrior Pageant Participants Raise Money for Student Council, Reinstating Tradition
January 27, 2022
The crowd was filled with the sound of elated cheers, gasps of surprise, and the thunder of applause in equal measure during the 21st annual Mr. Warrior Pageant on Thursday, Jan 20 in the Westwood gym. The competition was fierce as seniors Alexander Pablo, Diego Rodriguez, Josh Choy, Varun Ramesh, and Zach Pryor battled to win the coveted title and partake in a celebratory Westwood tradition to raise money for Student Council.

"It was basically a full house which none of us, myself and the contestants included, expected," Student Council President Aria Hegde '22 said. "I think it really was a hit and everyone loved it so much. It will be back for years to come."

Rodriguez upstaged his peers to win the Mr. Warrior accolade, while Choy charmed his way to the People's Choice Award of the night. The pageant featured several parts in which the contestants could showcase their skills.  After a brief introduction by hosts Amy Simon '23 and Maya Granoff '24, the contestants amazed the audience during the show's talent portion. Pablo serenaded the crowd with his rendition of the Taylor Swift classic Love Story, while Rodriguez sang the powerful ballad Wonder by Shawn Mendes (whom the contestant later named as "his idol" in the interview portion of the competition). Choy skillfully played a classical music arrangement on his viola after which Ramesh flaunted his juggling virtuosity. Finally, Pryor deftly performed gravity-defying Diabolo Yo-Yo tricks, eliciting gasps from the audience as it soared to the ceiling.

"I did learn how to Chinese yo-yo for [Mr. Warrior] and it was tough. The hardest part for me was just getting it stabilized. If it would tilt forward, backward, left or right then I would pretty much mess up every time," Pryor said. "I eventually got that down and I started learning how to throw it into the air. I started practicing on a basketball court and I dropped [it] a couple times too many and eventually it got a little bent to the point where I couldn't fix it, which made everything so much harder. I was having to learn everything again on a bent and broken yo-yo." 
Men's Wearhouse, the 2022 sponsor of Mr. Warrior, outfitted the contestants for the next part of the competition, the runway walk. Escorted by their chosen partners, each contestant walked from the backstage setup to the front of the gym, striking a pose for the judges. Wearing original suits provided by the formalwear company, the five seniors glided down the makeshift gym runway to great effect in the eyes of the audience. After showcasing their different suits and ties, the competitors did their best to captivate the judges, 2021 Miss Central Texas Winner Lydia Brooks, Head Custodian Mr. Eddy Moreno, and Assistant Principal Ms. Melissa McWherter, and the audience in the night's interviews. 

"[My favorite part of the night] was definitely listening to the crowd as the guys did their group dance," Hegde said. "The applause and screams of approval were amazing. A close second would be watching the guys sprint to change into their suits after the casual portion – it really showed how much they wanted to put on a good show for the audience."
Warrior Pride closed the ceremony with an explosive performance to a hip-hop dance mashup.
"My favorite part of the dance is the beginning because you don't know the crowd's reaction yet, so we start off really strong and hype already, instead of gradually building up to it, so it's really fun to see the crowd's reactions and their faces," Warrior Pride member Nicole Frazier '23 said.  
Warrior Pride's scintillating energy elevated the crowd's excitement as they anxiously awaited the final results.

"We decided to go for a dance that was super hype and fun because we knew it would be Mr. Warrior and a school event with a bunch of students, so we wanted something to really get the vibes and the hype up, and get the audience and the students having fun," Warrior Pride member Thessa Greebe '23 said.

Finally, the audience had the opportunity to vote for who had left them most star-struck that night. Afterward, Ms. Brooks crowned Rodriguez as the 2022 Mr. Warrior champion.

"I was so excited to wear the suits," Rodriguez said. "I don't dress up very often so getting a free rented suit was super fun to model. Honestly, figuring out who would win was difficult because I feel like all of us were best at different parts of the contest." 
To learn more about Student Council initiatives and events, visit this website. 

View Comments(1)
About the Contributors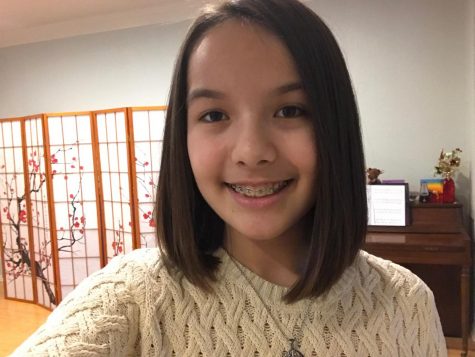 Alana True, Photo Editor
Class of 2022

Outside of press, I like to dance, read, and rollerskate.