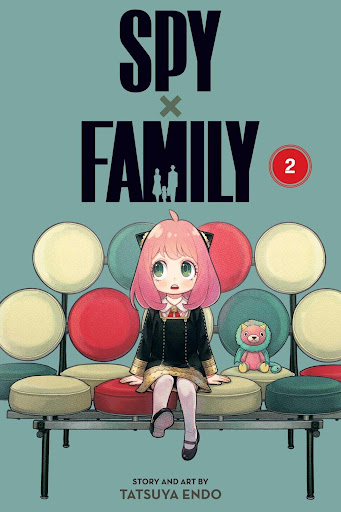 Photo By Viz Media
What You Should Be Watching in Anime Spring Season 2022
April 13, 2022
The new seasonal drop of anime started on Thursday, April 8, with a few early releases. Some of the most anticipated new series and sequels came out, making these releases some of the most attention-grabbing in recent years. This list will cover some of the most anticipated works this season, providing  background and detailing what to expect. 
The Rising Of The Shield Hero (Season Two)
The long awaited second season of The Rising of the Shield Hero has arrived. Continuing the adventurous and humorous story of Naofumi Iwatani and his many companions, fans of the first season are eager to watch, especially after three years. The story is about a man who gets transported to another world to become a legendary hero, but after being betrayed and losing his reputation, he goes off on his own to fight evil, earning money, and gaining many travel companions. Season one mainly featured a generic hero's tale of fighting monsters and traveling the world, but its social twist and endearing characters truly solidified the show's popularity.
Season two, though still carrying that generally adventurous feel, won't completely follow that precedent. Manga readers know that the next batch of episodes will contain massive twists and turns that completely turn shield hero's world upside down. This show's past reputation for its characters and the hype created for the future story definitely makes this a must-watch for the season.
Kaguya-sama: Love Is War (Season Three)
Following with another sequel, Kaguya-sama: Love is War is airing the first episode of season three on Friday, April 8. When Kaguya-sama first came out, it blew fans away with its intense and out of the box rom-com between two incredibly smart students at a prestigious high school. Students Kaguya Shinomiya and Miyuki Shirogane both realize they have feelings for each other, but neither of them wants to give up the battle and be the first one to confess. So there Kaguya-sama starts, with two students engaging in the act of emotional warfare, taking the phrase "all is fair in love in war" a little too seriously. Like past seasons, this show will have three to four stories in each episode with most stories centered around the main characters and a few that branch out into the lives of the side characters. Overall, Kaguya-sama has always been an incredible comedy and shows no sign of stopping in this third season. 
Spy x Family
"Everyone's family is a little weird" is a popular truth amongst many, but this one might have taken that phrase a bit too far. This story concerns a father who is a spy for a super-secret organization, a mother who is one of the most dangerous assassins in the world, and a daughter who's escaped from a research facility with the ability to read minds. This premise already sets the show up for intrigue but what really defines its success is the main twist, for none of the characters know each other's secret identities. The series follows this family of three throughout its intense and action-packed plot, paired with roll-on-the-ground comedy and hilarious facial expressions. Spy x Family's manga had been highly rated ever since its release, finding its way into many "Top Manga of 2021" charts. Not to mention, the animation studio handling the series already created some of the best past hits on their belt, like Attack on Titan and Vinland Saga. With an incredible premise backed by the animation studio's great portfolio, this is one of the shows that is anticipated to set the stage for the rest of the season, and even one of the early candidates for anime of the year. 
That Girl is Not Just Cute
A girl that's so cute she can make your heart race⁠—that's what high schooler Shikimori is known for. Parading around making hearts flutter, Shikimori is nothing short of adorable, but when her boyfriend Izumi is in trouble, she becomes cool and intense, making his heart beat with admiration. As the main gimmick of this romance, Shikimori's cool actions and traits in her relationship with Izumi is the main thing fans enjoy about this story. If a romance story sounds like what you're looking for this season, this show is definitely one to check out. 
Ascendance of a Bookworm (Season 3)
Like the other sequels on this list, Ascendance of a Bookworm blew fans away on its initial release, and has high expectations for the next one. An alluring fantasy and "slice of life" show, this story follows Myne, a book-loving college student about to become a librarian before she is crushed to death by a bookcase during an earthquake. In her last moments, Myne wished to be reincarnated in a world where she could read all the books she wanted, but is shocked when she is transported into a medieval era world where books are only for the rich and famous. Compounded with the fact that she is born into a poor commoner's family, Myne sets off to use her knowledge of modern technology and magic to try and print her own books in this dark world. When the show first came out, it was a refreshing and new take on the popular isekai genre, helping it earn a nomination for Best Fantasy Anime in Crunchyroll's 2021 Anime Awards. Now, fans are eager to see Myne's journey continue in this third installment of the series. As a fun, easy-going, and intuitive show, Ascendance of a Bookworm is once again showing promise to become one of the best anime of the year. 
Tomodachi Game
The long-awaited adaptation of the popular manga, Tomodachi Game, is here. Among one of the most hyped up and interesting stories, it includes twisted psychology and a mysterious game, and people are eager to see the greater anime community's attention on it. The main character, Katagiri Yuichi, values friendship above all else. This mentality led him to live a happy life, even when having to work multiple jobs while still attending school, as he always had his friendships to be thankful for. Suddenly, when Yuichi and his friends are dropped into a "debt repayment game" where each character has a massive amount of debt that can only be resolved through games that test their friendship and their values, all is tested. Though Yuichi thought trusting his friends would be easy, he begins to realize the true nature of money, friendship, and humanity with the progression of the game.  This exciting and dark psychological story with harsh breakdowns and betrayals that rival even Kakegurui, has fans on the edges of their seats. 
Don't Hurt Me, My Healer!
As new adaptations of manga come out every season, there's a set expectation to see an extra level of refinement when paper is put into animation. Don't Hurt Me, My Healer, is a great example of a type of anime people want to see a refined version of. The episodic story follows Karla, a healer who's just a bit too good at insulting. Spending most of her time telling off her knight partner for random things, she fails to do her job most of the time. Though the premise sets the story up for success, the manga has been plagued with some lackluster dialogue and a lack of interesting flow. But when the trailer came out, the animated adaptation showed some incredible potential. The voice acting in the show is really what makes this series look so promising. The problem of underwhelming dialogue has been washed away as the voice actors' talents took character expression and emotion to a whole new level, breathing some new life into the comedy. 
Komi San Can't Communicate (Season 2)
For most anime fans, this show doesn't need any introduction. Even before its first release, fans from the manga were so vocal about their admiration that practically everyone knew about it. The basic story is about a beautiful girl, Komi, who is bad at talking to the point where she often doesn't speak at all. Tadano, her ordinary classmate, befriends her and tries to help her with her social skills.  This seemingly basic premise  gave way to its success, something that fans are eager to see expanded on in season two.   
Aharen-san wa Hakarenai
It's a bird! It's a plane! It's… Aharen being carried around by Raidou because he misinterpreted her sleeping muscles as her having a life threatening condition that will leave her paralyzed for the rest of her life? Welcome to Aharen-san wa Hakarenai, a comedy that stands out from most for its strange devotion to hilarious misunderstandings. Even though many summaries of the story talk about Aharen's inability to understand the social concept of distance, this premise takes a backseat to her classmate's ridiculous interactions with her. Raidou, Aharen's classmate, has a fantastic talent to misunderstand Aharen's actions, and Aharen's own tendency of acting strange without notice and their inability to communicate at the right times does nothing but encourage Raidou's hilarious habit. This story's unique comedy storyline has undoubtedly placed this show in fan's minds as a potential candidate for Best Comedy Anime of the Year, making it a must-watch this season.