Breathalyzers, COVID-19, and the Importance of Slow Dances: Reflecting On Prom 2022
May 1, 2022
The Junior and Senior prom that took place at the Oasis Texas Brewing Company on April 30th, 2022, was medically unsafe. However, it seems that the attendees and their parents weren't concern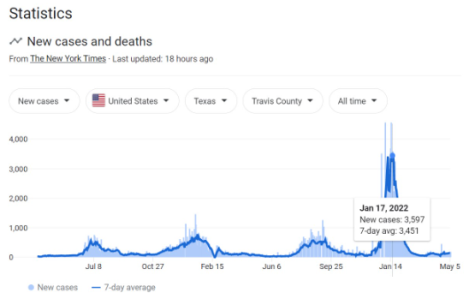 ed about it. The guests seemed to be more upset about the lack of slow-dancing than the lack of mask-wearing.
With COVID cases falling in the Central Texas area, fewer and fewer restaurants and stores are requiring masks inside their buildings. Even smaller businesses don't seem to be checking vaccination cards or providing masks as much anymore. The massive spike of new cases that happened on January 17th, 2022, was not only nationwide, but also severe in the Austin area. It was a county, state, and national high, the biggest spike during the pandemic so far.

This created a new, higher demand for pharmaceutical COVID testing, at-home testing, vaccines, and masks. There was also an encouragement to keep all often-touched surfaces cleaned regularly, especially in public or popular areas.

Despite this resurgence, the numbers have died down again. As of May 5th, the numbers were as low as they were towards the beginning of the COVID-19 epidemic, in late June of 2020. Not a lot of people could have seen this coming, as a result of this sharp spike and return to normal within the span of two months. It was a rather drastic change and return to normal, and it seems surprising that the number of new cases per day could fluctuate at such a rapid and drastic pace.

At Westwood's prom, attendees weren't given any COVID-precaution information or expectations, and the result reflects that. The two floors of space to fit about 3,000 people wasn't enough. The event was crowded, a majority of the guests didn't wear masks, and from a health standpoint, it was a poor place to be if you were concerned about contracting the COVID-19. One of the attendees, Suzannah Wells '23, cites her experience at prom as one of carefreeness that hasn't been around the past two years.

"Honestly, I didn't think about [catching COVID]," said Wells. "It was kind of a night of normalcy. My friends were all making jokes, like, 'Oh, we're all gonna get COVID.' The only thing that was a little concerning was that it was a small space, but honestly, COVID wasn't something I was worried about."
According to students, the breathalyzing that Dr. Acosta promised to the student body was not only inconsistent but apparently random. Students reported testing being like event staff picking students out of the crowd for no apparent reason, without any sort of indication. "I didn't get breathalyzed, I think they were doing it randomly. But my friend did get breathalyzed, and he was like, 'What the heck?' He wasn't drunk or high, so I don't know. Maybe if they saw someone, [they'd breathalyze them]," said Wells.
If the breathalyzing was a true issue, and if there was a genuine concern for attendees being intoxicated or under the influence, I believe that everyone should have been tested. It would have kept all of the partygoers a little safer since everyone getting into the event was checked for traces of drugs or alcohol. Since there were still some incidents including drugs that occurred as the evening went on, it would have been much safer to test everyone in order to keep the environment safe and under control.

"My one friend ended up getting drugged. She was feeling really bad, and we went to go talk to her," Wells said. "Later we found out that she had to go to the hospital. That was serious. I know who was drugged, but I don't know what happened, where it happened, any of that stuff. But she's okay now." There didn't seem to be any foul play among the invitees, besides a few individual incidents. But the issues that did occur could have been avoided if everyone had been breathalyzed so that those who brought in anything suspicious could have been caught."
"Honestly, I did feel really safe, because there was like a balcony, and I stayed outside the entire time. And inside, it was pretty big," Morgan Vopat '23 said. "But I only saw like, two people wearing masks the entire time."
Parents and students weren't as concerned about catching the virus as they would have been in the middle of January earlier this year. The massive spike that swept the country was not only dangerous but seemed to be an anomaly.

"None of my friends were concerned [about getting sick]. None of my friends even wore masks. I knew other people that got sick after prom, but not COVID-sick," Wells said.

It's clear that attendees of the event weren't concerned about the disease. It almost seems like all previous COVID precautions have been thrown to the wind in light of a good party. Was it safe to attend? Probably not. Was there a high risk of contracting the virus? Absolutely. The issue of masks had been a topic of heated debate for about three years now, and yet, the attendees of the event didn't seem to be that worried about it.

"And I didn't wear a mask, because I wanted to feel like, "normal," for one time. I didn't [get breathalyzed]. My parents [weren't concerned about it]," Vopat said.

Not being required to wear masks could also be seen as a next step back to normalcy. There was another concern with wearing masks: Makeup. To prepare for prom, a majority of the guests styled their hair and makeup for the event's formal attire.

"Like, I still wear a mask at school, but when I'm going to things I don't wear masks. And I mean, I was also at prom, and I didn't want to wear a mask with my dress, my makeup, and all that stuff," Wells said.

The general mood of the place was that students were exhausted of masks, and after over two years of the pandemic ruling over every event and social gathering, they were just wanting a moment that felt 'normal.' When I attended the event, you could just feel it in the air. The spirit of the party was filling the air, and no one even wanted to think about the virus.

"It was really nice, the mood there too. The decorations, and the pretty views. And the sunset, all of that was really pretty," said Vopat. With the sunset being at 8:10pm that evening, over the course of the night, the evening should have been getting cooler. But with the mass of bodies on the dance floor, it made sense when people had to step away to the Oasis' balcony.

"It was more just, "There's so many people in this one tiny little room." But it was also very open, you could go to the balcony, and breathe in fresh air. So yeah, it was nice," Wells said.

With the heat pressing up against the exterior, the air conditioning inside the building was a nice change, one that invitees took advantage of.

"I took a people-break about an hour in, and went and sat down with my friend on the balcony, and just talked about whatever, like on the second deck," Wells said.

Then, there's the issue of the music. The DJ was pumping hype songs from 2011, and there were no remixes or changes in genre. "The music selection overall was just really bad, and there were so many, not even just classic, but early 2000s songs. Like they're fun to hype up, but you need to really mix it up sometimes," said Wells. Many of the party-goers were disappointed in the lack of a mood change, as it didn't allow any opportunity for a more private moment, as so many were hoping for.

Overall, prom was medically unsafe. It was crowded, hot, and there were too many people in such a small space. But the best part? No one cared as much as they used to. People were just excited for the chance to be there, ready to have a good time. In the spirit of partying, it seemed that the attendees forgot about the risks of catching COVID and stubbornly decided to have a good time regardless. And despite the few incidents, I'd say that their goal was accomplished.