Associate Orchestra Director Mr. Justin Anderson Reflects on His Time At Westwood
In the orchestra hall, a sense of history reverberates like music. Trophies adorn shelves, the magnitude of achievement imposing on a physical scale, yet rooted in a more symbolic, shared ambition to grow. When the notion of community becomes synonymous with the ensemble, the dimensions and perceptions of program caliber swell.
At its fore, Associate Director Mr. Justin Anderson stands. Poised, the podium elevates his rainbow-laced converse sneakers, individuality inherent with every move. Wielded with precision and clarity, a baton keeping musical time mirrors the rhythmic pulse of classroom routine.
Sustainable success in music embraces a certain kind of consistency. Consistency in rehearsal, consistency in goal-setting, and the consistency of music as a means to catalyze positive change. 
After eight years of teaching at Westwood, Mr. Anderson's plans to lead the McNeil High School Orchestra as Head Director next fall tugs at the most gratifying part of working with students: building community from the ground up. 
The newest addition to his story tethers him closer to the same guiding principles that first set him on his path to become a music educator. 
"I'm so excited to meet new students and learn about a different learning community," Mr. Anderson said. "The program I am heading to has had many years of great success and very talented students."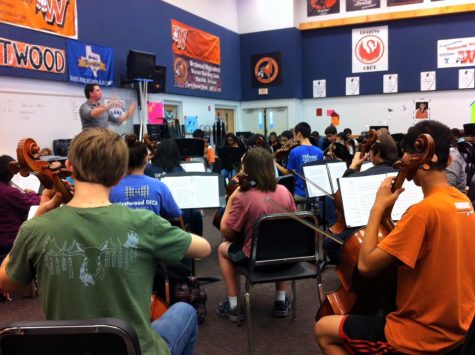 When he first began at Westwood in 2015, contextualizing existing orchestra triumphs took time, later assuming a significance bigger than any one achievement. For a program whose 39-year existence has only seen three total head directors, Mr. Anderson's role in bridging the transition from Ms. Susan Williams to Mr. Joshua Thompson in 2017 proved all the more special. 
"It wasn't until after I was hired [that] I found out how special this place was," he said. "We have worked so hard to create this culture of family and belonging, while still producing a high-quality product with our performances." 
Prior to working full-time as Associate Director, Mr. Anderson also served as Director of Orchestras at Grisham Middle School. The duality of his responsibilities across campuses strengthened his passion to engage students in all facets of their development as musicians and people. 
"Having been so lucky to have taught some students for seven years, you grow close to [these] students and their families," he said. "You remember family traditions and they share memories of past years. It's heartwarming to [know] that I had that impact." 
In reflecting on his teaching philosophy, curating a framework that acknowledges the importance of each student and their capacity to contribute to the program leverages trust and collaboration. As a music educator, learning is always reciprocated. 
"Other than the immense talent our students have, we have such a great melting pot of cultures," he said. "I've learned so much from our students that make me and their peers more well-rounded and free-thinking."
The kind of musical excellence traditioned to Westwood Orchestra is an investment in diversity, reflected in the various experiences offered to students which encourage purposeful, organic interactions amongst peers stepping up to support one another. 
"I want every student to leave my class having grown in some form or fashion," he said. "Did they do better than yesterday? Did we have any successes? What can we celebrate? Growing is essential to being a better human and music can connect [to] many life skills. I want to be a positive influence in student's lives, and I hope [to] pass it on."
"
Growing is essential to being a better human and music can connect [to] many life skills."
— Mr. Justin Anderson
For this reason, mention of Mr. Anderson's hometown in Odessa, Texas is as much an anecdotal favorite as it is a continuous reminder of his identity, grounding him to cherish the value of each opportunity, and most importantly, what informs his perspective on increasing access to music education. 
"It's so important to let the students know where you come from and tell people what music education is like across the state," he said. "Westwood is nothing like the experience I had in junior high and high school, but those experiences still made me have the drive and determination to be successful at what I do." 
Growing up in West Texas, football games reigned on his Friday evenings. Memories of watching his siblings play in marching band exposed Mr. Anderson to music early on, the sense of connectedness in a small-town only amplifying his interest.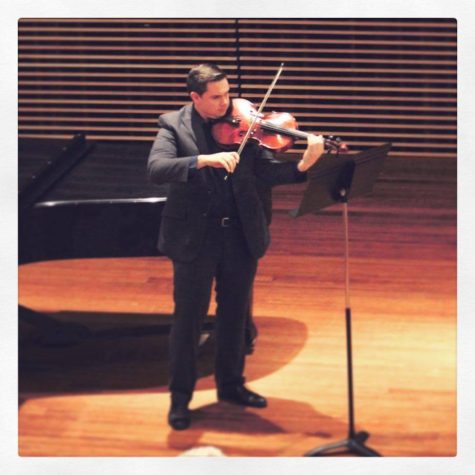 "I literally took my first steps as a toddler in the band hall," he said. "When I was in fifth grade, the junior high orchestra visited my school and I instantly fell in love with the viola. This was conflicting with my family as the orchestra was foreign to them." 
Upon entering middle school, Mr. Anderson's decision to continue with french horn in the band and viola in orchestra laid the foundation for a lifelong commitment to music. Attributing his success to the people who helped realize his dreams, consciously practicing gratitude comes in the form of giving back. 
"I knew when I was in seventh grade that I was going to be an orchestra director," he said. "I would look at my director's scores and one day I looked at her, Miss. Jan Mayfiel, [and said,] 'Do you get to do this all day long?' and she replied with a yes. From that moment, I knew what I wanted to do. Music was such therapy for me. This was my calling."
After attending the University of Texas Permian Basin (UTPB) as a music education major, Mr. Anderson was eager to impart his knowledge and embark on the challenge of exercising his teaching skills. 
"I was there at a time when the program was going through great changes," he said. We were having a performing arts center built with classrooms, practice rooms, recital halls, [and] music labs. I got to see the university become an "All Steinway School" and get nationally accredited by NASM (National Association of Schools of Music). It's an experience that I would never take back."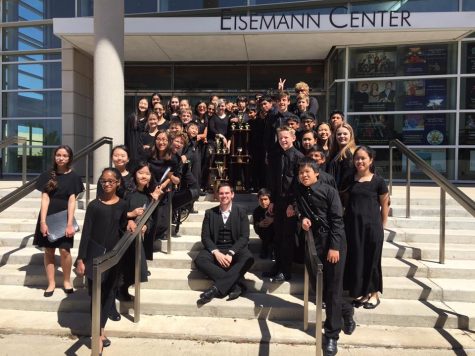 In the orchestra hall is also where the line between who you are and what you do blurs. For Mr. Anderson, the continuity of his love for music is a call to advocacy, and the collective responsibility to share and do good. 
"My goal for every class is for [the students to] leave having an appreciation for music," Mr. Anderson said. "[Whether it is] an emotional connection or an appreciation for the art, I hope students find their way back to music by listening to something they enjoy, going to see a symphony, or supporting local artists." 
When the baton comes down each day, Mr. Anderson always goes back to square one. 
"Music is art and music is life-changing," he said. "I just hope I gave my students the tools they needed." 
Leave a Comment