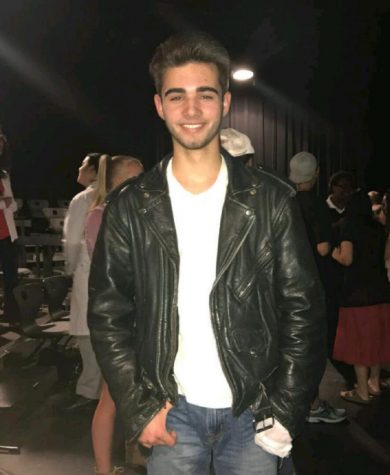 If I'm not geeking out on movies, TV, or comics, you can typically find me editing videos... and then geeking out some more.
Pop culture is my life and that's the biggest reason why film is my passion and ultimately what I want to pursue. I've been an actor since the age of eight, and since then I've surrounded myself with all things relating to the matter. I've done directing camps, screenwriting workshops, school theatre, and having watched MANY interviews with actors/directors has also been a big help to motivate me even more.
My obvious obsession aside, jamming out to Vampire Weekend, downtown day trips, and reading are what I do with my downtime.
I'm especially looking forward to this year being great not only because I'm a senior, but also because as being a second-year Student Press member, I plan on advancing the program to the best of my ability.
Chayce Wellings, Videographer
May 07, 2019

Marvel Movie Rundowns: Part Six & Seven

(Story)

May 07, 2019

Marvel Movie Rundowns: Part Four & Five

(Story)

Apr 29, 2019

'Avengers: Endgame': The Perfect End to Marvel's Infinity Saga

(Story)

Apr 18, 2019

'Shazam!' Rekindles a Spark for DC

(Story)

Mar 13, 2019

'Mister Miracle' Comic Brings Breath of Fresh Air

(Story)

Feb 09, 2019

'Conversations with a Killer: The Ted Bundy Tapes' Hooks Audiences

(Story)

Jan 31, 2019

Aquaman Brings Hope for the DC Franchise

(Story)

Nov 23, 2018

'Overlord' Overjoys Audiences with Zombie Fun

(Story)

Nov 13, 2018

Stan Lee's Legacy Will Live On

(Story)

Oct 31, 2018

Halloween Horror Month: 'Halloween'

(Story)

Oct 25, 2018

Halloween Horror Month: 'A Nightmare on Elm Street'

(Story)

Oct 08, 2018

'Venom' Fails to Deliver in Theaters

(Story)

Sep 24, 2018

[WARRIOR WEEKLY] S2 EP.1 – Freshman Do's and Don'ts

(Story)

May 11, 2018

[WARRIOR WEEKLY] EP. 3 – AP Exams

(Story)

May 06, 2018

[WARRIOR WEEKLY] EP. 2 – Avengers: Infinity War

(Story)

May 01, 2018

[WARRIOR WEEKLY] EP. 1 – B Lunch

(Story)

Nov 01, 2017

Students Give Opinions on Halloween

(Story)

Sep 18, 2017

'It' Remake Frightens New Generation of Moviegoers

(Story)