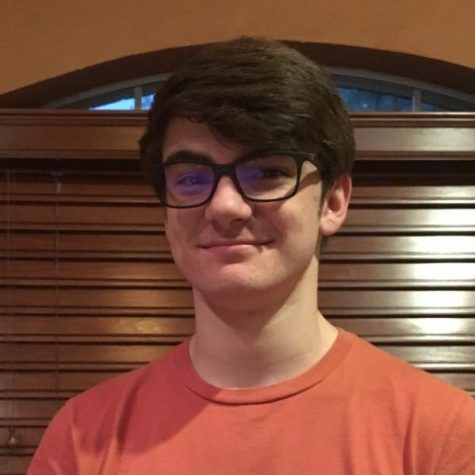 New year, new biography. As a senior at Westwood High School, this will be my second year on Student Press and my first year as World News Editor. Over the course of this year I hope to encourage those writing stories regarding world news to be as curious as possible, as efficient as can be, and as creative as their hearts desire. My goal is to report on important events happening all around the world and localize them to our small sphere here in Austin in order to be as relevant as possible. Most of all, however, I aim to provide the truth for the readers of this online paper.
Now, let's talk more about me. In the future, I hope to achieve my ultimate goal: becoming an actor in film. One day I wish to work alongside stars such as Tom Hardy, Robert Downey Jr., and Jeff Goldblum, and I hope to appear on the Conan show at least once. Lofty desires, yes, but this is what I will work towards nonetheless. Only time will tell if I am to become successful.
In my free time I enjoy writing, going out with my friends, watching Netflix, and playing video games, interests -- the last three, anyway -- I think are shared by most teenagers. Currently I am not the most exciting person in the world, but someday I hope to be. I love the studies of history and psychology as well, so these are possible degrees I may pursue in the future as well.
Connor Cowman, Community & World Editor
Jun 27, 2018

President Trump Announces Space Force

(Story)

May 11, 2018

North Korea Takes Steps Toward Peace

(Story)

Apr 23, 2018

Sexual Assault Awareness Month: The Issue with 'Boys will be Boys'

(Story)

Mar 25, 2018

'Tomb Raider' Fails to Reinvigorate Franchise

(Story)

Mar 02, 2018

Norway Becomes Champion of Winter Olympics with 39 Medals

(Story)

Feb 14, 2018

OPINION: Elon Musk, The World's Most Eccentric Billionaire

(Story)

Feb 02, 2018

Chinese Scientists Successfully Clone Primates

(Story)

Jan 25, 2018

California Suffers From Series of Mudslides

(Story)

Jan 12, 2018

OPINION: It's Time To Stop, Logan Paul

(Story)

Dec 14, 2017

OPINION: Deforestation of Sacred South Korean Forest Represents Worldwide Problem

(Story)

Dec 03, 2017

Bali Volcano Threatens Thousands

(Story)

Nov 04, 2017

JV Football Falls to the Pflugerville Panthers 33-7

(Story)

Oct 28, 2017

Warriors Slay the Dragons 45-41

(Story)

Oct 19, 2017

Wildfires Devastate California

(Story)

Oct 11, 2017

Orchestra Presents the 'Music of Beethoven' for Fall Concert

(Story)

Oct 11, 2017

JV Orange Sweeps Raiders 2-0

(Story)

Oct 05, 2017

JV Orange Volleyball Declaws the Pflugerville Panthers

(Story)

Sep 25, 2017

'American Assassin' Misfires

(Story)

Sep 25, 2017
Sep 21, 2017

JV Football Falls to the Vista Ridge Rangers 34-7

(Story)

Sep 13, 2017

AP Psychology Students Create Quilt Squares

(Story)

Sep 13, 2017

JV Orange Volleyball Conquers McNeil

(Story)

Sep 06, 2017

JV Orange Volleyball Falls to Lake Travis

(Story)

Aug 31, 2017

OPINION: Kim Jong-un Makes Foolish Threats

(Story)

Aug 08, 2017

'Valerian and the City of a Thousand Planets' Falls Short of Stardom

(Story)