Congratulations to National Merit Semi-Finalists!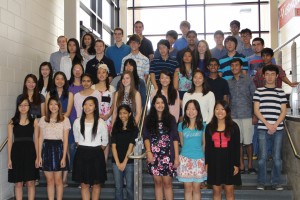 On September 10, National Merit Semi-Finalists were announced. These students were chosen as National Merit Semi-Finalists as a result of their high-ranking PSAT scores. "Our outstanding students have not only brought pride to themselves with this distinction, they have brought pride to their families and to our school,"  Principal Laurelyn Arterbury said. "This is a culmination of lots of great teachers from elementary and middle school who prepared students for high school, as well as parents who shared a commitment for education with their children."
The 43 semifinalists from Westwood are: Varun Adiga, Natalie Alexander, Emily Beaty, Samuel Bhagwandin, Christian Carroll, Amy Chen, Joyce Chen, Po-Yun Chen, Rebecca Chen, Jae Cho, Nicholas Curtis, Kevin Day, Patrick Guo, Andrew Horvit, Shauna Hwang, Zachary Imperial, Alisha Joshi, Avni Kantawala, Minsu Kim, Grace Lee, Jennifer Lei, Catherine Lu, John Luo, Apoorva Magadi, Sunay Nanavati, Janhavi Nemawarkar, Evonne Ng, Minh-Di Nguyen, Logan O'Reilly, Angela Park, Avilash Rath, Nitya Rayapati, Calvin Su, Dhrov Subramanian, Aarya Suryavanshi, Anlei Tang, Dillon Todd, Stephanie Wang, Everett Wilson, Claudi Xian, Siyi Xue, Jessica Yu and Grace Zhuang.
For more information on the National Merit Scholarship Program, please visit www.nationalmerit.org. Download the picture of the Westwood High School semifinalists by clicking here and right-clicking the photo.
Right-clicking and saving the picture should provide the image at its original size. If you have any issues, please email [email protected].