Austin Statesman Columnists Visit Journalism Class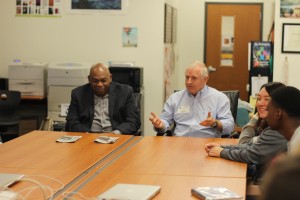 On Nov. 7, Austin Statesman sports columnists Kirk Bohls and Cedric Golden visited Mrs. Catuogno's Journalism 1 class to answer questions about journalism as a career.
Students also had the opportunity to review their sports articles with Bohls and Golden and receive feedback.
"I didn't know a lot about sports stories, and I'm not much of a sports person," Audrey Lu '18 said. "But when Mr. Bohls and Mr. Golden talked about [writing sports stories], I learned a lot more."
Editor-in-Chief Mackenzie Farkus '16 and sports editor Tristan Seifert '16, both of The Horizon, were able to speak with Bohls about story ideas for the online paper.
"Getting to talk with Bohls and Golden was a great experience. They're great people who really know what they are doing, and did not hesitate for even a second to share their experiences; even those that might be slightly embarrassing," Tristan Seifert '16 said. "I particularly enjoyed getting to talk to them one-on-one and getting advice for future articles I'll be working on."
Journalism 1 students agreed that Bohls and Golden have inspired them to look into a career in journalism.
"I loved their stories," Lu said. "It made a lot of people, including me, want to take journalism more because of their interesting stories."