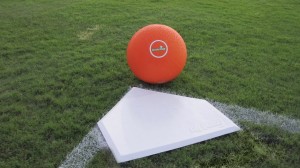 When I say I play kickball, I'm not talking about the old P.E. game of "kickball" with the bouncy rubber ball and make-shift bases. I'm talking about all out, serious, down to the last detail kickball, played with a hard ball, about the size of a basketball, on a meticulously measured and lined field.
To me, playing kickball is almost like being part of an exclusive club that outsiders don't know about or understand. Most people have never even heard of playing kickball in an organized league and don't understand the extensive rules and effort that is put into the game. I began playing in kindergarten, in the lowest age ranking, and have played every year since. The league is called Little Miss Kickball, and was created by two women in Corpus Christi, but has since spread out throughout the state of Texas. I have also been drafted and selected multiple times for All Star Kickball, a team that competes against other select teams in the Texas State Championship. Just to give you an idea of how serious it is, I'll tell you that for All Stars, we train all day, every day for a month in the scorching Texas summer sun to only play for two days.
Through kickball, I've gotten to know many girls from other schools and have made lots of meaningful relationships. I think that kickball, though similar to baseball (which is the same concept but without a bat), is the perfect team sport. No matter if you're a star or not, there is a place for you on the field and in the lineup. Throughout the game, you are one within the team, but when you step inside the kicking circle, each player gets their moment. And you know your teammates will always be banging against the fence cheering for you if you hit a home run or if you strike out.
Now in my final year of the league, I will see the crisp white lines be destroyed for the last time as I take the field with my team. After thirteen years, the many memories and friendships will still last a lifetime. I will always be thankful that I had the opportunity to play such a unique sport and will encourage others to do the same.