SunDancers Learn Competition Choreography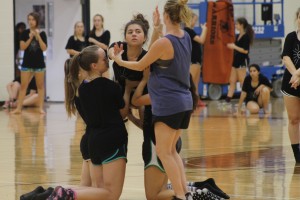 On Wednesday, Sept. 23, the SunDancers met for a three hour long rehearsal, practicing their dance routine for their upcoming performances. Put together by Los Angeles resident Jenn Parsley, the entire SunDancers' contest choreography was taught and learned within one night. Their performance piece goes along with the song People Help the People by Birdy. Though the movements were challenging, the SunDancers pulled through, ending in a very productive night.
"They're doing their best at trying new things," SunDancers Director Ms. Kelly said. Although this is a different style of learning for the SunDancers from previous years, the SunDancers benefitted from the change. "It makes them work and just go for it," Ms. Kelly said.
An added challenge is balancing practice time with other activities, especially during football season, which presents a challenge to learning both contest and football dance routines. SunDancers aim to improve their energy level and high kick technique for their performances on the field. At the same time, they have to make time for working on the artistry, style, body awareness, and accuracy crucial for contest performances.
"I think that we need to have a lot of energy, and if we do, it'll go over good with the crowd," SunDancer Sophie Gray '17 said. The SunDancers are excited to compete in different contests with this routine, including a competition outside of the city.
Every three years the SunDancers do a big trip out of state. Other years, they take a smaller, in-state trip. This year, they're going to compete at the Moody Gardens in Galveston, getting to perform and stay at a hotel for multiple nights.
"It's my senior year and I'm excited to do everything for the last time," SunDancer Caelan Svartz '16 said.  "It's really fun to have everyone come out and do our own show." Svartz is most looking forward to Escapade, the Westwood Dance Department's spring show.
"The girls work so hard and you can see it just from watching," Ms. Kelly said. "Lots of people don't understand what the SunDancers do and how well they do it because they never have a chance to come to our performances."
Westwood students and faculty are encouraged to come to SunDancers shows and contests to cheer the team on. The SunDancers' routine will be performed on multiple occasions — Saturday, Feb. 13 at Westwood Dance Classic, Friday, March 4 at Moody Gardens in Galveston, and on Friday, Apr. 29 and Saturday, Apr. 30 at Escapade.