French Club Celebrates Halloween at Oct. Meeting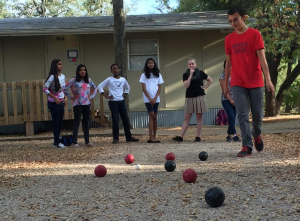 On Oct. 20, French Club had their Halloween themed meeting involving a popular french game and engaging information on how French celebrate Halloween.
It was the second meeting of the year. This year, all officers are new. Due to unexpected school changes, the French Club were two officers short in the September meeting.
"This is the first meeting with all the officers, because last meeting there were some positions that hadn't been filled in yet, so it was nice to get to know everyone during the October meeting," French Club Co Historian Aldrian Widjaja '18 said
There were also some new members present, in addition to the two new officers.
"I saw more French Club members this meeting," Widjaja said. "Also, everything was more organized and went smoother than last meeting."
Since it is the second meeting, the officers are still collecting dues from the members.
"The sign-in is a little difficult right now because we're having to collect dues from all our members," McFarland said, "but I think once we're done with dues – which should be next month – it will go more smoothly because it will only be a checkmark instead of writing names."
The members also played the French game "Pétanque", named after the sound two of the game's characteristic iron balls make when they hit each other, is played as such: One player throws a white ball and the other players try to throw their balls in order to hit the white ball. The owner of the ball closest to the white ball wins at the end of the round wins.
"'Pétanque' is really a game that bonds people," Widjaja said. "Even though some people get a little competitive about it, it's all friendly."
As usual, the officers prepared a PowerPoint in French over a predetermined topic.
"The PowerPoint has a really nice theme, which was Halloween. It had enough information about Halloween, but not so much that it would bore the members," said Widjaja
The French celebrate Halloween differently than Americans do. For example, the French have traditionally trick-or-treated from shop to shop, but this practice has been all but abandoned in recent years in favor of the more American house-to-house travelling.
"We learned about how other people celebrate Halloween instead of looking at it just from how we celebrate Halloween," French Club Vice President Sofia Abreu '18 said.
The next French Club meeting will be on Nov .17. The French Club officers will decide on a theme on Nov. 10 — or sooner than that, judging by their enthusiasm.
"I am looking forward to being in charge of the PowerPoint and working with Thu Nguyen, the other historian, again," Widjaja said.