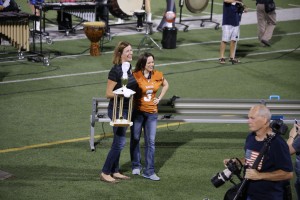 Every year, Round Rock ISD hosts a Sock and Underwear Drive between the Westwood Warriors and the McNeil Mavericks. All the clothes collected are donated to the Round Rock ISD Clothes Closet. This year was the sixth annual drive, and the Westwood Warriors were determined to win.
Last year, McNeil had won the competition, so Westwood felt compelled to win back the title this year. In addition, the principal of each school had to wear the winner's jersey at the football game between Westwood and McNeil, where the winner would be announced. The Warriors did not like the prospect of seeing Principal Mrs. Laurelyn Arterbury in a blue Maverick Jersey, or to see the Mavericks beat them for the second year in a row, so the student population at Westwood enthusiastically donated to the cause.
"An event such as this not only brings our community together, but it demonstrates that we value service learning and giving back to others," Mrs. Arterbury said.
When the day of the football game finally arrived, the crowd quietly anticipated the results before the halftime show. When the speaker was about to announce the results, there was a silent drum roll and a quick pause for suspense. The crowd held their breath. "And the winner is… Westwood!" A cheer went up through the Westwood side of the stadium, for the Warriors had beat McNeil. 
"Mrs. Acosta is a friend of mine (and an Aggie) so seeing her in burnt orange was fun!" Mrs. Arterbury said. "We both knew that at the end of the evening many students would benefit from the donations to the Clothes Closet so it made it all worth it!"
Westwood had done it. They had stolen the title from McNeil, but it wasn't just about beating McNeil. It was also about helping the community and donating for a better cause. Together the two high schools and all of the feeder schools collected a record setting total of 8396 pairs of socks and underwear, which is a phenomenal amount donated to the Round Rock ISD Clothes Closet.
"It's always a friendly rivalry with McNeil, but more importantly it's the RRISD Clothes Closet that benefited from our competition," Mrs. Arterbury said.
The Warriors donated an abundance of socks and underwear, and they will continue to strive for a better community next year, when the annual sock and underwear drive continues.