Clinton Wins Nevada Caucus, Trump Wins South Carolina Primary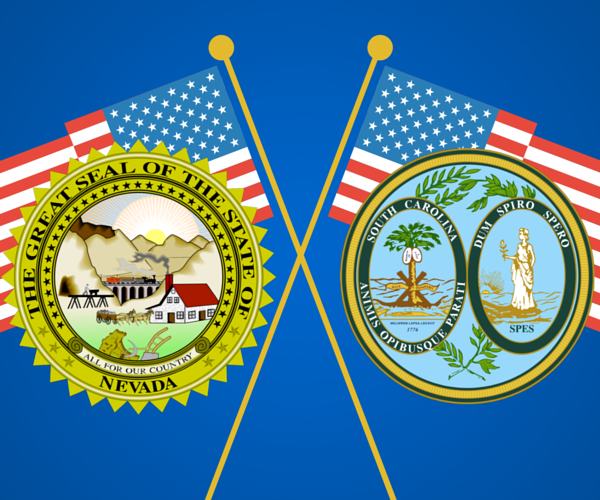 Yesterday evening, former Secretary of State Hillary Clinton won the Nevada Democratic caucus, while Republican candidate Donald Trump won the South Carolina Republican primary.
Due to Clinton's win in the Iowa Democratic caucus and Sanders' win in the New Hampshire Democratic primary, many media outlets and political analysts proclaimed that the Nevada Democratic caucus winner was unpredictable. Clinton narrowly won Nevada during the 2008 Presidential Election against President Barack Obama; this time around, Clinton won with 52.7% of the vote, approximately five percent ahead of Senator Bernie Sanders of Vermont.
"Thank you, Nevada," Clinton said during her victory speech. "Some may have doubted us, but we never doubted each other."
Following Senator Ted Cruz's win in the Iowa Republican caucus and Donald Trump's win in the New Hampshire Republican primary, Trump went on to win the South Carolina Republican primary with 32.5% of the South Carolina vote. After endorsements from Governor Nikki Haley of South Carolina and Republican Senator Tim Scott of South Carolina in the days leading up to the primary, Senator Marco Rubio of Florida took second place with 22.5% of the vote. Cruz came in at only .2% behind Rubio.
"[New Hampshire] sent us here with a very good feeling," Trump said during his victory speech.

ABC Breaking News | Latest News Videos
Former Governor of Florida Jeb Bush dropped out of the race after placing fifth overall with 8% of the vote in the Republican primary. The second Bush son has been struggling to boost his poll numbers and save face, especially after a video of Bush asking attendees at a New Hampshire campaign event to "please clap" went viral.
The remaining Republican candidates will face off in the Nevada caucus on Feb. 23 and will participate in a debate at University of Houston on Feb. 25. The debate will be broadcast by CNN in conjunction with Telemundo and Salem Radio. Clinton and Sanders, on the other hand, will compete for votes in the South Carolina primary on Feb. 27 and will debate in South Carolina on Feb. 23; the debate will be broadcast by CNN as well.
Leave a Comment