Dance Department Performs Surprise Flash Mob
More stories from Annie Bowers
For a week and a half all of the dance classes in school prepared restlessly for the bi-annual flash mob. Every other year all of the dance classes join together and at each lunch they have a spontaneous dance breakout. This year it was to the song "Stick to the Status Quo," from High School Musical.
"That is the song that they used in the show during the cafeteria scene, so there were a lot of students here at Westwood that wanted to reenact what they did in the actual show," Dance Teacher Mrs. Marla Valk said.
While the dance wasn't exactly the same, the spontaneity of the event was comparable. The dancers were both excited and nervous to perform in front of all of the people in lunch.
"I can't wait to see everyone's faces when the music starts to play and all of the dance students stand up," Erica Ofori-Atta '19 said.
There were also people who were not in dance who stood up on their own and danced with everyone else, whether they knew the dance or not.
Every student in the dance department, including SunDancers, Warrior Pride, and the SunDancer Babies, were given the opportunity to perform in the flashmob. While there were some who were opposed to the idea of standing up in front of people and dancing, there were many more people who were willing to stand up and just have some fun. After the dance, flyers were passed around to all who were interested in becoming a part of the dance department next school year.
Leave a Comment
About the Contributor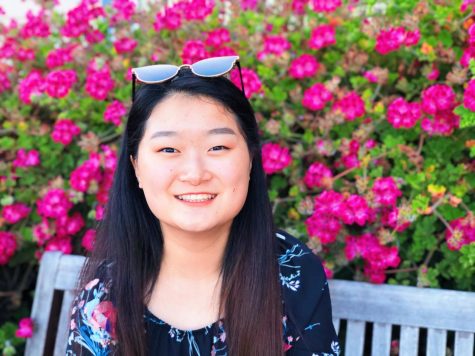 Grace Liu, Yearbook Editor in Chief



Hey there! I joined the yearbook staff on a whim a few years back, and what seemed like a small decision at the time veered my entire life onto a...