88th Zilker Kite Festival Returns to Austin on March 6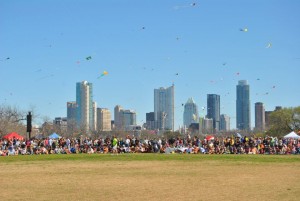 Coming to Austin in March for the 88th year, the Zilker Kite Festival is a great way to spend a Sunday. With a history as rich as Austin's, the Zilker Kite Festival is the oldest kite festival in the nation.
"The Kite Festival started as a 'Kite Tournament'," Kite Festival Event Director Rebecca Gindele said. "The idea was to inspire youth to make and fly a kite."
The festival is also a great and fun way to volunteer in your community, and you can bring the whole family with you. You can sign up if you want to get official hours here, or you can simply wear team shirts, pick up trash on the park grounds, and help others with their kites.
"High School Age students can appreciate that this event is for everyone and has been going on since their grandparents and maybe great-grandparents were young," Ms. Gindele said. "This event is really all about students having an experience."
In recent years, the festival has become a fundraiser for the Communities in Schools program for Central Texas, which helps keep kids in school and prevent drop outs. All of the festival's proceeds go to supporting Communities in Schools – Central Texas.
"It's so much fun to make a kite and then watch it actually fly," Ms. Gindele said. "That's still the point today."
If you're planning on going, make sure to check their website here for more information on alternate places to park and the best times to come by the festival.
"Don't try to park at the festival," Ms. Gindele said. "If you think you'll drive into Zilker Park, you risk starting your day frustrated and likely getting in a mess of a traffic jam."
The Zilker Kite Festival has an activity for anyone, so make sure to bring your friends and get ready for a relaxing day of fun.
"You can picnic, make a kite, fly a kite, buy a kite, taste amazing food from lots of amazing food trucks, lay on a blanket and watch all the kites and people, bring your dog, bounce on a bounce house and so much more," Ms. Gindele said.
The festival takes place on March 6; for more information on parking, the festival's sponsors, the events itself, and any of the food trucks, check out their website.