Grand Central Cafe Worth the Long Drive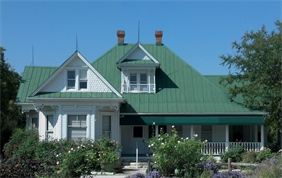 The Grand Central Cafe has quite a history. Built in the early 1900's, the old Victorian style house was used as the main set for the classic 1973 horror film, The Texas Chainsaw Massacre. In the movie, a girl and her group of friends move to the abandoned house upon finding out that her grandfather's grave might have been vandalized. They soon discover a group of crazed killers living next door and have to find a way to escape their imminent fate.
After the movie was filmed, the house was taken down and moved to Kingsland, TX to the grounds of a railroad-style Inn. It was then turned into an elegant cafe that serves breakfast and lunch, as well as dinner only on Wednesday, Thursday, Friday and Saturday. It only makes sense that the name and style of the restaurant should involve the Grand Central Station.
The restaurant is decorated elegantly with white table cloths and flowers on each table while keeping the restaurant railroad-themed with pictures of Grand Central Station. Upstairs is Club Car, a bar open only on dinner nights. The bar (where the grandfather's room was in the movie) is now a cozy lounge/hangout area with enough leather recliners for a whole party. Around the cafe is also a number of screencaps from the movie as well as displays of film-themed t-shirts available for purchase.
The cafe serves a variety of foods to satisfy everyone's tastebuds while continuing to play along with the railroad theme, serving dishes like the Grand Central Omelet, the Dispatcher, and the Amtrak-all omelets, as well as different stacks of pancakes, such as the Freight Train, or The Stack. For lunch, the cafe serves burgers (which you can substitute for a veggie burger), sandwiches, soups, etc. as well as homemade desserts. I ordered Chicken Fried Chicken (a house favorite) which, I believe, is always a safe choice at a new restaurant. I was not disappointed. The chicken was crispy on the outside and seasoned perfectly. It was also served with fresh mashed potatoes and probably the best creamed corn I've had in a long time. I also tried the Mushroom Swiss Veggie Burger: sauteed mushrooms and melted swiss on top of a homemade veggie patty also served with fresh-cut fries. The burger had a savory flavor and a nice texture for the patty. Again, I was not disappointed.
Overall, Grand Central Cafe is a great place to go, and is well worth the hour-long drive if you are looking for a somewhat elegant dining experience and fresh, home-cooked food for a reasonable price.
The Grand Central Cafe is located at 1010 King Ct, Kingsland, TX 786391.
Leave a Comment