Scrapbooks Tell the Story of Incoming Student Maggie Findell's Life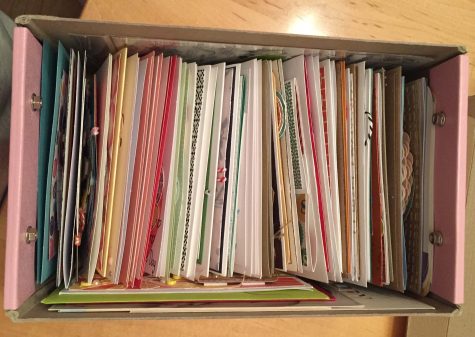 Normally, owning 14 two and a half inch books with your face on each page would be unsettling, but Maggie Findell '20, who will be attending Westwood next year, has had every prominent moment in her life creatively documented in scrapbooks. From her birth, Leah Allen, Maggie's mother, has made sure to preserve her daughter's life in art, so that when she is older her memories will never fade.
"It's something that everyone should do," Maggie said. "Because one day I can look back, show my kids what I looked like, see, and remember documented moments."
Scrapbook page making can take from four hours to weeks at a time. The tedious process isn't just gluing yarn and pasting pictures onto paper. It consists of finding the perfect paper, the right cutout, and having extremely precise writing.
"A lot of effort, time, money and materials goes into making these books," Leah said. "But at the end it's worth it because you have your memories all written down."
Maggie has been scrapping with her mom since she could hold a crayon, learning as her apprentice while making a few books herself. Leah displayed scrapbooks that Maggie had made when she was in elementary school and flipped to a page where her daughter had gone to a bowling birthday party, commenting on how creative the use of a bowling pin as an exclamation mark was.
"If I have kids, I'll most definitely do [make scrap books for them]," Maggie said. "But I don't know if I'll be as good as my mom, she's intense."
Maggie says she's glad her mom decided to make the books when she was born. Without them, she would not be able to look back on the happiest moments of her life so far, commenting that the older she becomes the more she forgets pre-school, or what their family dog looked like as a baby.
"I like the books where I was a baby," Maggie said. "Without the books, there are no other documented pictures and commentary of what my life was like when I was little."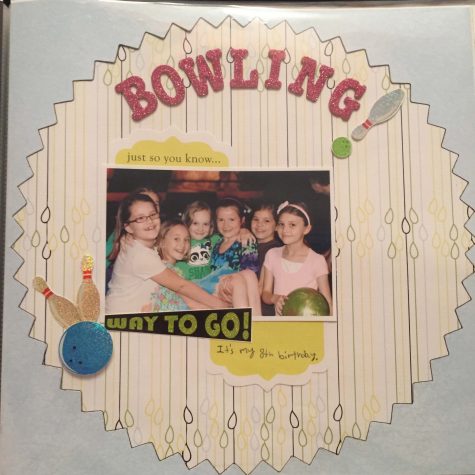 Not only does she learn from the oldest books though, Maggie emphasized how critical scrapbooking is to her personally. As an artist, photographer, daughter, and scrapbooker. Maggie is an aspiring artist. She loves photography, which drove her to scrapping with her mom.
"Scraping teaches me patience. The art of it is so tedious and intricate. Scrapbooking helps me pay attention to detail especially and taught me a lot about design, how a page looks, where the human eye pays attention to first, and how pleasing the colors are to look at."
The skills Maggie learns from scrapbooking is applicable to her dream job too, since she wants to be a photographer and study photography at Yale University. Maggie is excited that her passion is improving the techniques she will need for her future career.
"The whole basis of scrapbooking IS photography, and aspects of scrapbooking helped me be more creative in that area," Maggie said.
Between the two, there are over 15 full, finished scrapbooks. The first was finished in 2002, and the most recent was done last month. Leah recalls wanting to document Maggie's life for her, but not knowing exactly how. She wasn't sure why she chose scrapbooking, but 14 years later, she's glad that she did.
"They are all my favorite. It would be hard to pick one," Leah said. "Oh, but the first few weren't very good, I was just starting out. That was right after Maggie was born."
The more recent books are monthly instead of annually. These are called Project LifeⓇ scrapbooks. Just as big and extensive as the yearly ones, Leah and Maggie go into detail of each month, documenting their lives. Project Life isn't page by page, it's pocket by pocket. So instead of scrapbooking on pages of colored paper, they take clear page dividers with pockets and fill them with moments.
"I like it a bit more because my mom makes me write it in. I write about what I did that day, how I felt. It's almost like an artsy diary," Maggie said. "There are more pictures. A lot of my friends and family are in them. Project Life covers anything from school dances to eating out at a restaurant."
Since the first book, the production and variety of art has only grown. Now, Leah and Maggie make 13 scrapbooks a year.
"This is our third year doing Project Life," Leah said.
Although they have started Project Life, the pair will continue to record Maggie's journey through life. Maggie insisted they start a high school scrapbook over the summer. Out of all of her teenage scrapbooks, Maggie believes that the jump from middle school to high school will be in the most important book yet because it records the day-to-day of attending Westwood.
"It's about capturing everyday life," Leah said.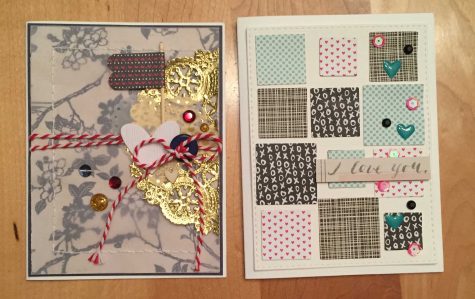 In addition to the monthly Project Life and annual scrapbooks, Leah and Maggie make cards on black and white paper for every occasion. Leah and Maggie make well over 20 cards a year, but numbers always vary. The pair crafts cards for coworkers, teachers, friends, events, get-well-soons, birthdays, thank-yous, families, and holidays, never skipping or forgetting a date. Just like how the books connect the two together, making cards connects Maggie and Leah to others who don't scrapbook.
"It's very social too; making things for other people is one of the reasons why scrapbooking is so important," Maggie said.
Maggie believes that with all of the cards and books she is making, she will improve greatly over the next few years.
"As time goes on, you get more paper, more stickers, and my mom really helps me," Maggie said. "I use her as inspiration. It's just like learning an instrument, it takes practice. You're gonna get better."
Scrapbooking isn't normally what you think of when people say "art". It's a unique part of Maggie that she has had ever since she was born, and wouldn't trade it for the world.
"It's a fun activity that [my mom and I] can do together," Maggie said. "I love that I have scrapbooking to bond over with my mom."
Leave a Comment
About the Contributor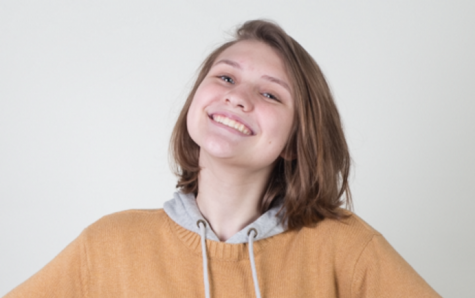 Jasmine Milliger, Let's Talk About Editor
Hi, I'm Jasmine and I believe in aliens. Between training MMA and being an IB student, I manage the "Let's Talk About" section of the Horizon. My absolute favorite...