HOSA Hosts Ice Cream Social
Emily Lu, Editor-in-Chief
October 17, 2016
Health Occupations Students of America (HOSA) held an ice cream social for members after school on Thursday, Oct. 13. Students were able to socialize with others interested in the medical field, as well as work on posters promoting National Dental Hygiene Month.
Though HOSA is usually a competition based organization, officers this year have stepped out to create a club that's more involved and social.
"I think it's really good for a club not to be just about competing, but building human relationships," HOSA President John Cho '18 said.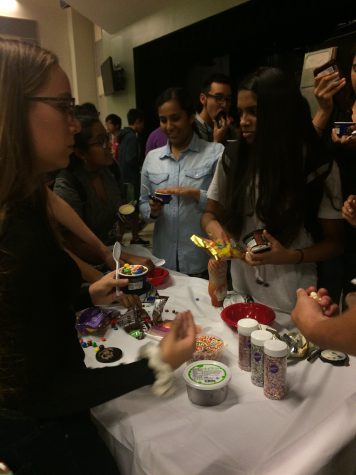 Events such as these encourage a diverse range of students to bond over a similar interest of health science.
"A lot of people in HOSA don't really know each other, so it's good for all of the people in different grades to meet each other," Yashvi Reddy '20 said.
After ice cream was passed out and members were given the chance to adorn the treat with toppings of their choice, they moved on to creating posters. October is National Dental Hygiene Month, and HOSA is hosting a dental drive to collect items such as toothbrushes and floss to donate.
"We got to make posters for the dental hygiene drive that we're doing this month," Cho said. "We're trying to inform the school about promoting good dental hygiene."
One of HOSA's next events will be participating at Spooktacular, where they will teach a CPR program known as TAKE10 to the community. Spooktacular will be from 5 p.m. to 8 p.m. on Saturday, Oct. 29 at Northwest Family YMCA.