Students Volunteer at Annual YMCA Spooktacular
Emily Lu, Editor-in-Chief
October 31, 2016
Several Westwood clubs and organizations volunteered at Spooktacular, hosted by the NW YMCA, on Saturday, Oct. 29. Students there managed booths that promoted community awareness, as well as helping to distribute candy and guiding young children through games.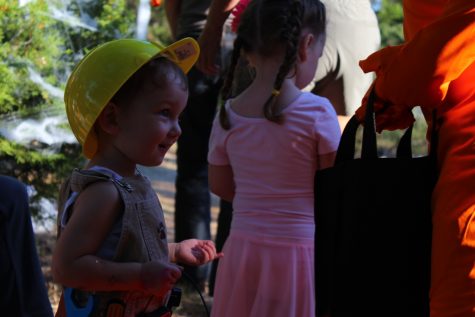 Health Occupation Students of America (HOSA) was stationed by the pool following the "Haunted Trail" to provide an introduction to CPR. Each student volunteer was given a CPR manikin to demonstrate the "Three C's: Check, Call and Compress." After giving an explanation, the participants were encouraged to practice and earned candy for their efforts.
"HOSA trains people basic CPR, just compressions only," Straley Webb '19 said. "That way people will know something to do if someone collapses and responses [in the community] should get better."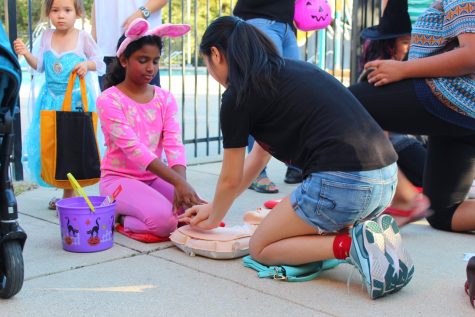 Other groups in attendance included Advancement Via Individual Determination (AVID), Junior Reserve Officer Training Corps (JROTC), and SkillsUSA. These volunteers were placed in assorted areas, including managing ring tosses and helping with registration.
"ROTC pretty much filled in wherever they were needed, mostly it was games and watching the children in the costumes running around, going through the trail," Toran Degen '18 said. "Play games, and set up games, sort out prizes, really whatever they needed we were here for."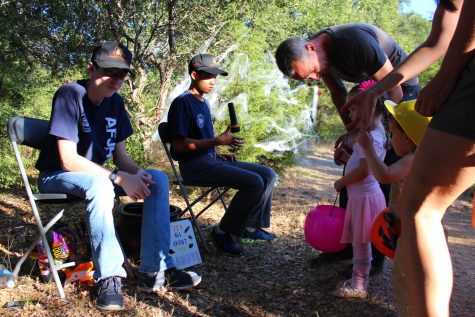 Spooktacular is an annual event that gives many children around the area a memorable Halloween experience. With numerous opportunities to accept handfuls of candy, and classic games with a spooky twist, all attendees seemed to enjoy the occasion. Volunteers, especially in community events like these, are able to give back in a place that has supported them.
"You really make a big impact on the community, it's not just getting service hours," Degen said. "It's making an impact, seeing your community for what it is; seeing all the people that are in it, and all the friendships and all the families that are inside."