Ania Weglicka '17 Skates Her Way to National Championship
Jenny Xu, Executive Editor
December 9, 2016
It's an art that requires extreme athleticism and grace, speeding across a frozen surface at lightning speed with a combination of artistry, jumps, spins, and footwork put together in a grueling routine. Three-time national competitor Ania Weglicka '17 lives and breathes figure skating, having laced up her first pair of skates at 8 years old.
Born in Bellshill, Scotland, Weglicka was devoted to many activities from a young age, including gymnastics and dance. While skating was not a top priority at the time for Weglicka, she soon grew to love the sport. Her background in gymnastics gave her an advantage when joining skating, with stronger core muscles and quads, as well as greater flexibility.
Though she spent the majority of her skating career in Scotland, Weglicka moved to Austin as a 14 year old after her father got a job relocation. The transition proved to be tough, as not only were there cultural and climate differences, but in order to continue her training, Weglicka needed to find a coach to work with.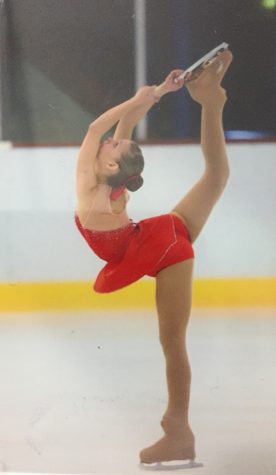 "It was very different, I'd been to the U.S. before so it wasn't too bad, but I wasn't happy about moving," Weglicka said. "It was hard at first but now it's okay."
This year, Weglicka was invited to participate in the 2016 British Figure Skating Championships, competing against some of the world's best skaters. Skating as a junior lady in her third national championship, Weglicka placed 18th in the short program and 12th in the long program, with an overall standing of 17th in the entirety of Great Britain.
Those competing at the junior ladies level must perform a short program (maximum 2 minutes 50 seconds) consisting of eight elements, and a long program (maximum 3:30) consisting of 11 total elements. Each program is fully choreographed with its respective music, and has two separate parts of scoring: the technical elements score (TES) and the program components score (PCS). The TES takes into account the difficulty and quality of the elements performed, while the PCS includes transitions, interpretation of music, and composition of the program.
"I'm not so happy with how it turned out with judging and scoring and stuff, but I did skate really well," Weglicka said. "Personally, I skated the best I could, and probably my best skate so far, so I was very happy with it."
In the days leading up to the competition, Weglicka spent her time training with her former coach and meeting up with old friends and family.
"It was really nice to see everyone again, that they all remembered me," Weglicka said. "I had a lot of people compliment me on my skate and that they just thought that I had improved, and it was really nice that they saw that."
Weglicka's accomplishments aren't limited to competing in this years' championship — two years after she picked up skating, Weglicka placed first in the Scottish Figure Skating Championships, competing as an advanced novice lady. She competed under uncommon circumstances, running a high fever that only her mother knew about.
"I actually had a really high temperature, and my mom didn't tell me that," Weglicka said. "She woke me up in the middle of the night and kept giving me pills, then sent me on the ice and I got first place."
Like many other athletes, Weglicka has a pre-competition tradition, and as unusual as it may be, she never competes without a few sips of Coca Cola beforehand.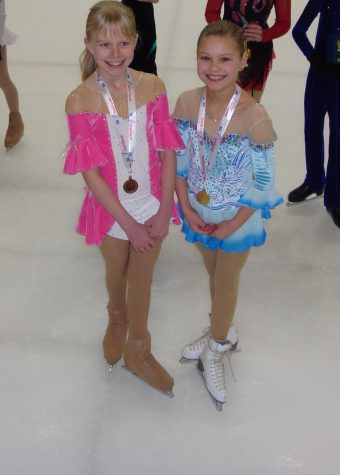 "Right before the competition I need to eat something and drink something, so just to get me a bundle of energy, I drink two big gulps of Coca Cola right before I get on," Weglicka said.
Skating is just as much of a physical sport as it is a mental sport. Many athletes crack under the pressure of competing in larger competitions, though Weglicka is impressively consistent in all of her programs.
"When I was 12 years old, I went through a stage with anxiety, and it consumes you, so now I've taught myself to have mental strength and it's really been helpful," Weglicka said. "I'm usually really nervous before I compete, but I can somehow turn my nerves into my performance, I can use it as my energy."
While athletes on the ice seem to effortlessly execute every jump and spin, hours of work are put into each element. Her consistency is mainly due to her rigorous training schedule, skating four to five hours a day, five to six days a week. She works with coaches Barry Kamber and Kevin Garrett, as well as personal trainer Ryan O'Malley.
"My coaches now, they're really nice and they help me out, they've changed my technique so I've become a better skater," Weglicka said. "They taught me so many things I probably couldn't learn [in Scotland], so it really helped."
Such a demanding training schedule requires a strict bedtime as well, as the only ice available for practice is from 5 a.m. to 9 a.m. on weekdays. Day-to-day life includes waking up before 5 a.m., and going straight from the rink to school, where she takes AP courses. Her off-blocks are spent working out with her personal trainer, or clocking in more time at the rink.
Weglicka finds her source of inspiration in the form of two-time national champion and Olympian Gracie Gold, who skates for the U.S..
"My favorite skater has always been Gracie Gold," Weglicka said. "Recently she's been going through a tough time, but I feel like that's what every skater goes through, so because of that she's really relatable, and I think that she will come back stronger."
Though Weglicka spends most of her time training, her Wednesday evenings and Saturday mornings are spent coaching skaters in the Learn to Skate USA (LTS USA) program. The LTS USA program groups skaters by age level and experience, with classes offered for skaters as young as three years old, as well as adult skaters. While in the LTS USA classes, skaters develop key foundational skills to build upon.
"I always liked working with children," Weglicka said. "I even like the ones that are a little bit older, that are higher level. I feel like they actually understand more; they actually take in what I tell them to do."
While coaching serves as an enjoyable pastime for Weglicka, it also helps pay for the costs of skating. With skates and dresses costing hundreds and thousands of dollars and the high prices of practice ice and lessons, the money spent each year on the sport quickly adds up. Weglicka spent her summer before senior year working as a camp counselor at one of the rink's summer camp programs, allowing her to receive free practice ice every day she worked.
"I really enjoyed it, I loved everyone I worked with," Weglicka said. "I enjoyed working with the kids, and that they all respected me and looked up to me so they actually listened to what I was saying."
Her goals for the future are clear right now; with her current personal bests of 34.99 points in the short, and 66.62 points in the long, she hopes to be able to beat her records next season.
"I'll be working really hard, my goal is to come back to nationals again next year at junior level and hopefully get top five," Weglicka said. "I'm going to try really hard to improve a lot."
Not only has Weglicka taken away medals away from skating, but she's also gained important life skills that will help her throughout life.
"In Scotland, they taught me to motivate myself, to be hardworking, and they taught me to be a good competitor against all my friends," Weglicka said. "My coaches were quite strict, but it made me modest and made sure I was doing a good job, and it helped me get through hard times."
As it is for all sports, though Weglicka may be influenced by her idols, coaches, and fellow skaters, the type of work she puts in are the results she gets out of it. Her strong work ethic only goes on to show the success that she'll have later in life.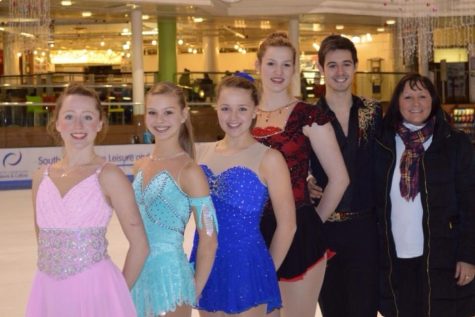 "I need to have the motivation, I need to push myself, because if I don't push myself then no one else will be able to," Weglicka said. "I like doing it for myself, that I don't have to have my parents help me or anything, it's all on me. It gives me something to try and be better at, and just have more in life."