Students Dominate at SkillsUSA State Competition
Grace Liu, Yearbook Editor in Chief
April 12, 2017
Every year, Corpus Christi is flooded with a sudden influx of students dressed to the nines in red blazers and jackets. Like the years prior, members of SkillsUSA from all across Texas spent a weekend in Corpus Christi at the annual state conference held from April 6-9.
Over 50 Westwood students attended the state conference. Among them, 38 students placed within the top three of their respective competitions at state. Of those students, 18 advanced onto nationals, which will be held late June in Louisville, Kentucky. Competing in over 46 of the 100 total  events, Westwood students participated in a wide range of contests that ranged from Architectural Drafting to Entrepreneurship. Contests varied — while some competed in interviews, quiz bowls, and presentations, others were subject to on-site, time restrained contests as well as technical tests.
"As a novice to SkillsUSA, I didn't really know what to expect," national qualifier James Joh '19 said. "I was taken aback by the diversity and number of talents that are prominent throughout Texas."
In addition to competitions, the annual state officer elections and inductions were held during this time as well.
"Competing is only a part of the [state] experience," national vice president Shaili Mehta '19 said. "At the [SkillsUSA] state conference, the student delegates conduct a business meeting to elect seven state officers for the upcoming year. It is a rigorous process with an exam, interview, and speech/problematic question with candidate eliminations at every stage. I am super proud of the two officers who made it from Westwood. They worked tirelessly to prepare and came out successfully."
When running for office, the largest component of the application came from the delegate votes. Delegates were chosen from all 13 of the districts and candidates presented speeches to showcase their goals and plans for office.
"The best part of the trip was listening to the delegates' speeches," voting delegate Lily Chieng '19 said. "I loved listening to their background stories and what inspired them to become state officers and just listening to how they formed their challenges into opportunities."
Westwood produced six of the total 58 candidates and two of them achieved office positions, marking the first time so many Westwood students have acquired officer positions.
"[The process] was definitely worth it [and] I enjoyed the whole thing," newly elected state officer Janice Oh '19 said. "I think campaigning was the best part of it all: I'm pretty sure I met like 200 people that day, no joke, and it's just a way for you to talk [to the members of SkillsUSA] about what their careers will be in the future and what competitions they [competed in] and you just get to see [all the] different passions. Everyone seems so invested in what they do."
During the officer process, candidates were put through various tests and advised along the way by the current officers. Students were able to gain firsthand experience and knowledge on the responsibilities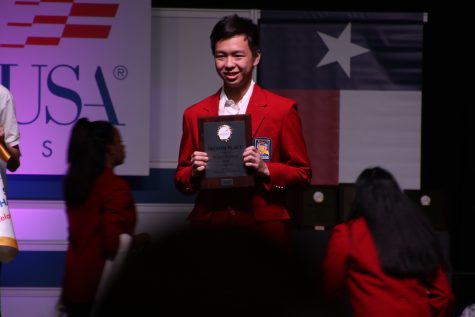 of becoming an officer and the duties they would be expected to perform upon gaining a position.
"[I'm most excited for] the new experiences in which I get to meet new people because I just love talking," Oh said. "[Being an officer helps you] develop a stronger perspective on life that you can't get from anywhere else."
Students who finished competing early were able to spend time hanging out in downtown Corpus Christi as the competition window spanned from Thursday to Saturday evening. Attractions included visiting the local aquarium, the USS Lexington, watching a live theatre production of Madagascar, and just walking along the beach.
"It was really nice to hang around the beach even though we weren't allowed to go into the water because of [an incident last year]," Chieng said. "We also visited the aquarium and the USS Lexington which was amazing."
The awards and closing ceremony was held on Sunday morning, with over 7,000 total SkillsUSA members in attendance.
"I think it was really great seeing a lot of the students, especially a lot of the newer students actually make it up there on stage and seeing the ones who have been there go back up," chapter advisor Ms. Tiffany Carpenter said. "I was very happy that the two state officers, a third of who we actually started off with, made [office] which was really amazing."
The full list of results can be found here.