Riley Nelson '17 Pursues Theater at Northwestern University
The familiar chiming of the 4:15 p.m. bell fills the air, and Riley Nelson '17 hurriedly navigates her way to the black box for rehearsals. It's become a regular occurrence for her now, especially in the weeks leading up to a show. For Nelson, theater has become a way of life — hours spent running lines, writing her own monologues, and creating characters.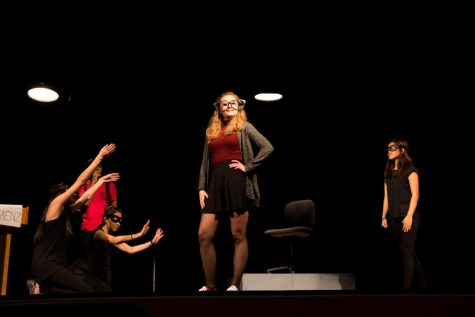 Nelson began developing her passion for theater at a young age, participating in various theater camps, as well as Destination Imagination, a program where she was able to put out a theme-based play with a group of students. By middle school she was auditioning for plays, where she tackled a number of challenging roles.
"I guess one of the big things is just the thrill of performance," Nelson said. "Being on stage in front of an audience, it makes you feel like you're on fire. There's a very unique connection that's forged between the actor and the audience, it's very reciprocal and it's very hard to describe."
Since then, Nelson has made her mark on Westwood's theater program, bringing home the Best Actress award at this year's University Interscholastic League (UIL) One-Act Play contest, beating out competition from several other schools.
"It didn't quite process at first — I've actually been wanting Best Actress since sixth grade, but by the time senior year came around, I didn't even think about it too much," Nelson said. "The character that I was able to take on had a lot of dramatic range, she went into the depths of despair, and she had some wildly light moments, so that was helpful."
Now, Nelson will be pursuing a major in theater at Northwestern University's theater department. Northwestern, known as a more academically oriented schools with a strong theater program, has been Nelson's dream school since eighth grade.
"[There's a] community of smart, creative, exciting people, and just all the theatrical resources and classes available, and all the academic classes are amazing," Nelson said. "To just be around people who want to create, want to do things, and put on student productions, and Northwestern attracts a lot of guest artists, speakers, and intellectuals, and being exposed to that is so exciting."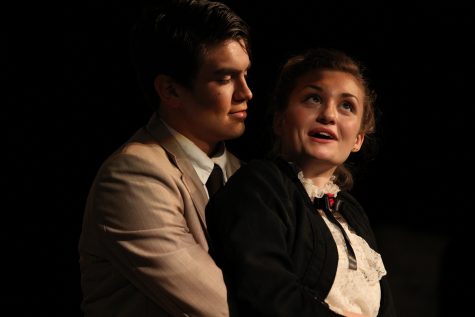 Aside from theater, Nelson juggles a rigorous academic schedule filled with International Baccalaureate (IB) courses, resulting in late nights spent doing homework and studying all weekend during shows. Often times it means that less time is spent toward developing the character she's portraying.
"There have definitely been characters where I have not been able to put the time that I would like to put it until the very end," Nelson said, "so I've been sort of frustrated with that character [for] most of the rehearsal process just because I haven't been able to put in the time to make it a decent character. I guess that's the biggest point of struggle for me."
Nelson describes her family as being incredibly supportive of her passion, helping her look into colleges, run lines, and work on monologues.
"There's a lot of societal pressure that you shouldn't act, you shouldn't be in the creative arts," Nelson said, "but if it speaks to you and if it's what you love doing, I think that you have to be dogged enough to pursue that, and you have to trust that it's going to be okay."
In addition to a supportive family, Nelson finds Westwood's theater program just as encouraging.
"It's a relatively small nucleus of people, but everyone is very compassionate and ready to see each other succeed," Nelson said, "which I think is very cool, because I feel like some acting communities can be very cutthroat."
As for future plans, Nelson aspires to have her own production company, with emphasis on the role of women in theater.
"That's one of my personal focuses as an artist, that through writing, through the roles that I take on, I want to incorporate women into theater," Nelson said. "[I want to] put on plays about women, have female actors, female directors, that's very important to me."
Though Nelson hopes to write her own works, she remains focused on acting.
"It's exhilarating, it's terrifying, and it's very freeing as well," Nelson said. "You're completely not yourself, it's like you're balancing on the edge of a knife, if you tip one way you could mess it up, but you somehow have everything in balance. It's crazy, I love it."