Debate Teams Qualify for Tournament of Champions
Jenny Xu, Executive Editor
September 27, 2017
Following a successful weekend at the 29th Annual Grapevine Classic, the Westwood Speech and Debate team participated in several different tournaments over the weekend of Sept. 16, where three teams came home with qualifying bids to the Tournament of Champions (TOC).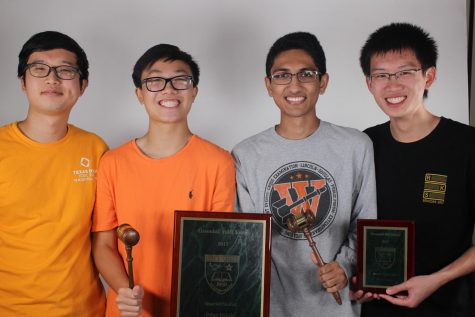 At the 2017 Myers Park Laird Lewis Invitational, varsity public forum (PF) team Krithika Shamanna '18 and Neeha Bandlapalli '18 placed first overall, earning their second TOC bid and becoming one of the first teams in the nation to qualify for the prestigious tournament.
"[Shamanna and Bandlapalli] did exceptionally well," debate coach Ruishi Wang said. "They had done well at Grapevine, so we hoped that they would be able to carry it over. We do hope that all of our teams that are qualified will continue going to tournaments, that way they'll get more bids that will later on [affect] their placing at the TOC."
Both varsity cross-examination (CX) teams sent to the Greenhill Fall Classic earned their second bids, making them among the first few teams to qualify for the TOC as well.
"I felt pretty good because we prepared for a long time over the summer and before the tournament," CXer Anthony Nguyen '18 said, "and I felt like the hard work paid off at the tournament."
The two teams ended up facing each other in their double octafinals round, resulting in a bye round that allowed both teams to earn their qualifying bids without actually debating.
"It was definitely surreal because we didn't expect our season to start off like this," CXer John Cho '18 said. "[The way we qualified] was definitely interesting, it doesn't really happen that often, and I thought it was pretty cool that we were so lucky to have the seeding turn out like this."
Now that the teams have secured their spots in the tournament, they hope to make it to the elimination rounds at the TOC by going 5-2.
"We're definitely going to try to go to some more tournaments with them to get them that extra experience," Mr. Wang said. "I'm hopeful and I think that they do have a chance [to break], and especially if they work throughout the year and not have senioritis later on, they will do well at the TOC."