Splash and Dash Raises Money for Project Graduation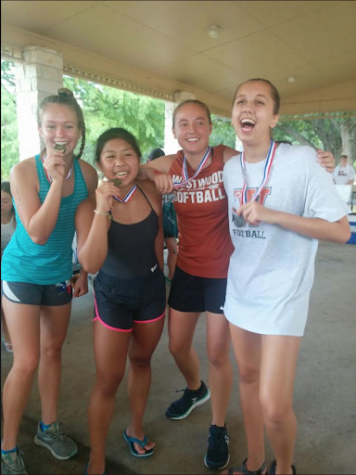 The 2020 Project Graduation committee held its first fundraiser of the year this Sunday, Sept. 29 at the Anderson Mill Pool. The swim-run event — dubbed "Splash and Dash" — raised funds for the annual alcohol- and drug-free graduation party held for the senior class in May.
"Project Graduation is the most important fundraiser we do at Westwood because the whole purpose is to keep our seniors safe on graduation night," Principal Mario Acosta said. "It's a very worthy cause, it's why I got up early on a Sunday to come torture myself, to show support for the cause of making sure our seniors have a safe, fun event the night of graduation."
 At 9 a.m, the 61 attendees participated in a 300-yard swim in the pool followed by a 1.5 mile run through the neighboring Harper Park trails. Attendees had the option to run and swim individually, or to form teams of one runner and one swimmer. This is the first year the Project Graduation committee has held this type of event, and committee chair Jennifer Allid was happy with the turnout.
"We thought this was a great way to do something healthy and really encourage the kids to stay active, do good things, be there to support each other," Ms. Allid said. 
Following the race, an after-party was held at Harper Park complete with games, music, and concessions.
"The activities after the race made the Splash and Dash really fun," Sam Newlin '22 said.  Newlin and her partner Nell Yao '22 were the first girls' team to finish. "I'm really glad I could do this and support the cause."
For more information about upcoming Project Graduation fundraisers, or to make a donation to the organization, visit http://whsprojectgrad.org/.