Halloween Horror Month: 'Bird Box'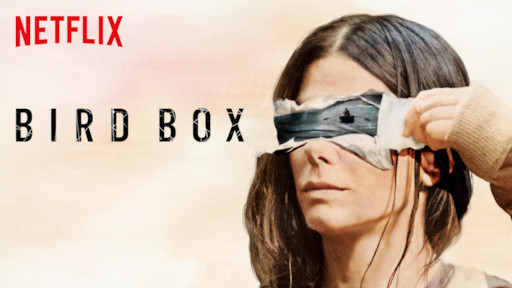 Susanne Bier's Bird Box won the MTV Movie Award for Most Frightened Performance award. The movie was originally based off of "The Script," a novel by Josh Malerman. The Netflix original film, Bird Box debuted in 2018. The movie was very popular when it came out on Netflix and created a lot of buzz through social media. 
However, while watching the movie, I found myself getting bored. The plot is very predictable.The most annoying thing as a viewer was watching the main character, Mallorie, struggle to communicate and connect with her children.  Played by Sandra Bullock, Mallorie was so detached from her kids, she named them Boy and Girl. At the beginning of the film, I was looking forward to watching Mallorie grow and develop into a mentally stable person. In the ending scene, Bullock's character seemed content, even happy but I was still left unsatisfied with Mallorie's character development. Another aspect of the film that added to my boredom was the duration. The movie clocked in at two hours and four minutes.
This film is also sad and it doesn't get into the Halloween spirit at all. Though Bird Box doesn't really fall into the category of Halloween movies Along with many Horror movies, there was a big A-Ha moment towards the end but still leaves the viewer with many questions. Rather than having ghosts or vampires as the antagonist, Bird Box has some "force" where once you see it you go crazy and die. This movie left me with a sense of gratitude for family and living in a society. Isolation was a repetitive theme throughout the film which contributed to the movie's dullness. 
Bier's film had a good use of lighting and shadows to portray a mood. There was excellent cinematography throughout the entirety of the film. This movie's aesthetic reminded me greatly of the scenery in Bong Joon-ho's Snowpiercer. This really helped balance out the movies's mediocre plot.  The movie contains so many deaths, I started to stop caring about the characters. Bird Box is a pleasant movie to watch if you don't mind gloominess and sitting down for two hours as the movie does not contain very much adrenaline.