Lauv Explores Emotions with Calm and Colorful 'How I'm Feeling'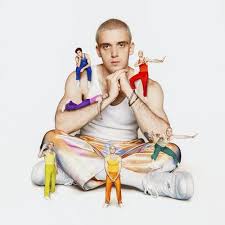 Yunoo Kim, Community & World News Editor
March 19, 2020
American singer and songwriter Ari Steprans Leff, better known as Lauv, released his debut studio album How I'm Feeling on Friday, March 6. The album had a simplistic yet eye-catching cover; a white background behind scattered versions of himself, clad in different colored clothing to represent his separate personas. Much like the quirky design of his album, Lauv's new music was fresh and filled with his unique sound, a fusion of electronic and indie pop. 
The album consisted of 21 tracks, many of which were about the hope and stress that comes from new romance. Lonely Eyes is a softly sung song with a strong beat, in which Lauv muses about a girl who he feels a deep connection with. Though they both are isolated and fearful from past relationships, he paints their shared loneliness as a positive bridge between them. I especially enjoyed how he switched between privately narrating his feelings and directly addressing the girl, maintaining a gentle but passionate tone.  On the other hand, Feelings is a song that details unreciprocated love, optimistic despite the underlying anxiety he feels. It is one of the tracks that I liked the most, soothing and relatively upbeat compared to the others in the album. 
A song that stood out was Sims, interestingly named after the popular life simulation video game. It presents a man who is disappointed at meeting someone in the wrong circumstances, in this case drunk at a meaningless party. He wishes that he and the stranger were part of the video game, so that they can pick and choose which path their relationship would go down. Accompanied by a simple rhythm and keyboard melody, the song presents itself as more of a fleeting thought than a lifelong regret, leaving the listener at peace. Lauv himself explained that the theme he had in mind was "meeting the right person at the wrong time". 
Other songs on the album spoke of more seriously strained or failed relationships, orbiting around the conflicting emotions of frustration and wistfulness. I'm So Tired, which he recorded alongside Australian singer Troye Sivan, features the phrase "I'm so tired of love songs" repeatedly. Burned out by a past flame, the narrator yearns to return to the peace of his home, away from the chaos of romance. The honest tone of the two singers makes the song easy to relate to- it was well-received by audiences when first released, and reached number eight on the UK Singles Chart. Sweatpants features a narrator flirting with dangerous addictions as he reminisces about a turbulent relationship which he misses despite its exhaustive nature. Though the subject matter might be depressing, Lauv's distinctive, musing vocals lets the listener float through even the bumpiest of memory lanes. 
Who, featuring Kpop band BTS, was a particularly good track, stylistically divergent from the rest of the album. The electronic-heavy song has a haunting feel to it, and is based upon the reluctant realization that a partner has changed irreversibly. My favorite track by far, however, was ****, I'm Lonely, which featured singer Anne-Marie. It has the humorous backstory of being written after one of Lauv's favorite sandwich shops closed. The song by itself tells the story of another lost lover, and ironically has a rather cheerful melody. 
The sixth track in the album, Billy, serves as a brief interlude within the continuous theme of romance, revolving around Lauv's real life dog. Lauv sings about his own experiences and places them on to Billy, such as dealing with the emotional stress that stemmed from his rapidly rising music career. Lauv admitted that he suffered from clinical depression and OCD, and that Billy helped him to get himself back on track. Consequently, this memorable track contains the important message of brushing off doubts and keeping one's head up, even when faced with cruelty. Lauv's love for his pet is evident in the lyrics, making the song as heartwarming as it is encouraging. 
How I'm Feeling is a bundle of melancholy, dreamy songs that deliver quiet power with Lauv's voice. While entirely in English, the album reached Top 10 in many music charts internationally; Lauv's universal appeal is the strong aesthetic that shines through the melodies, catchy and poetic no matter how hectic the subject matter. The album is definitely worth a listen, and sets up high expectations for Lauv's future work.