Pence's Head Becomes Fly Hotspot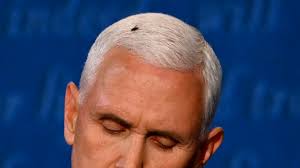 On Wednesday, Oct. 8, the vice presidential debate welcomed an unexpected guest. A fly landed on Vice President Mike Pence's head. Immediately, the internet was "buzzing" with photos, jokes, and memes about this fly.
"The fly spent 2 MINUTES on Mike Pence. It changed its voter registration to Mike Pence's head," The Late Show With Stephen Colbert tweeted.
Only a few minutes after the fly landed, a twitter account for the fly was created, and received over 10,000 followers. The profile picture is a very zoomed in photo of the Vice President's hair, with the fly sitting on top. The account's biography simply says "I'm a fly". Since then, the account has been using its new platform to promote the Biden Harris campaign, as well as advocating for LGBTQ+ rights, and arguing against Mr. Pence.
"To be clear: mike pence [sic] is a bigot who will do anything to remain in close proximity to power — including defending the avoidable deaths of 210,000 americans. Bzz" the twitter account said.
Joe Biden has also been taking advantage of this opportunity and using the fly to promote himself. He tweeted a picture of him holding a fly swatter, and captioned it "Pitch in $5 to help this campaign fly". He also is now selling fly swatters, saying "Swats away flies and lies"
Supporters of the Vice President have been trying to defend him throughout this fly incident. They are using this opportunity to fight the memes about Mr. Pence, and the Biden/Harris campaign's usage of the fly.
"Biden is more likely to hit himself than the fly" Ben Shapiro said, commenting on Biden's tweet with a flyswatter. "Pence dismantled Harris. So the entire media will talk about pink eye and a rogue fly"
Despite the campaigning and jokes about the fly, Mr. Pence does not seem to be commenting on how a fly in his hair ended up being the main takeaway from the whole debate. Another big focus from the debate was his pink eye. Pink eye is a symptom for COVID, so many people are curious about whether Pence was well enough to attend the debate.
Polls are saying Kamala Harris won this debate, with people saying the fly won second place. The second presidential debate has been cancelled, due to the President's COVID-19 diagnosis and refusal to do a virtual debate.