'Happiest Season' Gifts Viewers With A Sense of Seasonal Comfort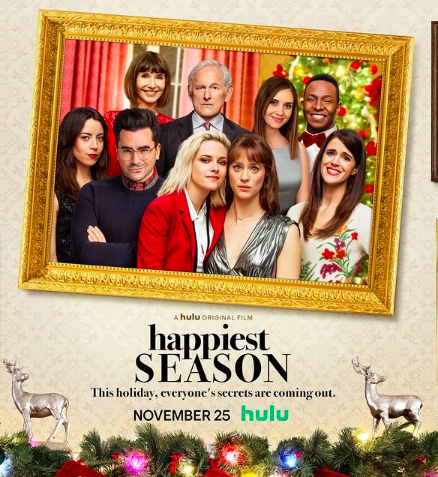 By Amy Simon, Opinions Editor
November 30, 2020
Christmas movies. Two words that can either make or break you during the holiday season. Unlike many other genres, Christmas movies are usually filled with mediocrity, with only select movies making it out of the pile alive. Starting the season out strong, Happiest Season, released on Wednesday, Nov. 25 is an instant classic that will forever hold its ground in my yearly holiday movie rotation.
Directed by actor and filmmaker Clea DuVall, Happiest Season stars Kristen Stewart and Mackenzie Davis, portraying the roles of Abby and Harper. The young couple has it all: they're young, in love, and living life to the fullest. After getting drunk and swept into the holiday mood, Harper invites Abby to spend Christmas back home with her family. Abby isn't one to celebrate festivities during the holidays, especially since the passing of her parents. However, she decides to come along in hopes of impressing Harper's parents and getting granted permission to ask for her hand in marriage. 
Along the road trip home, a fork in the road is revealed when Harper admits she hasn't come out to her family, or anyone in her hometown for that matter. In hopes of salvaging this mess, Harper makes a promise to Abby: she's going to tell her perfectionist, social-climbing family about their relationship right after Christmas. Abby says "It's five days, how bad can it be?" If only she knew that was the one question you do not want to ask in a romcom.
If you thought the movie couldn't take a more unfortunate turn, Abby is forced to impersonate the role of the orphaned roommate, a term Harper's parents use quite often to introduce her to family friends. On top of that, Harper's sisters fall into their own sequence of unfortunate events. Jane, who shows a quirky and jovial personality, is constantly living in a fantasy headspace and continuously jabbers on about her novel, which she has worked on for ten years and has yet to release. Her unconventional self makes her parents frequently dissatisfied. Sloane on the other hand shows a snarky personality and incessantly competes with Harper for their father's approval. The stakes are even higher for this family when Harper's dad, Ted, is running for mayor and is trying to impress a major donor.
One of the joys of watching this movie was seeing how casually fitting the LGBTQA+ community was. It's presented in a supportive, humorous, and well-thought out manner unlike many Hollywood movies centering around the same topic. Harper isn't worried about whether or not her parents support the LGBTQA+ community, but more of whether or not her parents will still approve of her. She's afraid that her sexual orientation will affect the picture-perfect image her family is trying to maintain. In the end she learns that trying and failing is better than not trying at all. By not trying, she is not only hurting herself, but also the people around her.
Aside from the theme, watching Schitt's Creek star Dan Levy portray the role of Abby's best friend John was the highlight of the movie. Acting as a shoulder to lean on, John was essentially Abby's only way of staying keen throughout the holiday season. John's ability to crack a joke even at despairing times never failed to make me laugh and kept the movie steady and lighthearted throughout.
Overall, Happiest Season soared over my expectations. The movie was lighthearted, warm, and cheery. It's not everyday that you see queer characters in this kind of popular entertainment genre and it's was nice to finally see them blossom in their own space. Though this film tends to be more complicated than your regular Christmas movie, it definitely isn't one to be brushed off the shelf. It is a guilty pleasure you definitely won't want to miss.