'Soul' Reverberates with Soulful Intensity
With an iconic touch of humor and the profound message that this movie delivers to all of its spectators, Soul, a movie released on one of the most important days of the year, Christmas day, has reached everyone's hearts and left a lasting impression on every person that has had the pleasure of watching it. 
On Dec. 25, 2020, Soul was released on the popular streaming service, Disney+. It was directed by the Academy Award winner Peter Docter, (also known as the director of Inside Out and Up), co-directed by Kemp Powers and produced by the Academy Award nominee Dana Murray, (also known as the director of the Pixar short Lou). 
This movie tells the story of Joe Gardener, a middle school band teacher whose dream is to become a well-known musician who plays the piano with famed and important performers. When Joe gets a chance to perform with the famous musician Dorothea Williams, he gets transported to another dimension known as the transition to the afterlife, where new souls find their personalities under the guidance of their instructors. Determined to continue with his life, Joe Gardener pairs with 22, a soul that doesn't quite understand the true meaning of life and has a hard time finding its true personality. As the movie continues, Joe tries everything to help 22 find his passion so he can go back to his normal life and be able to perform with Dorothea, but he discovers that there are more important things in life than having only one passion. 
Soul is the first Pixar movie that incorporates and focuses on Black characters. I feel like they did a really good job on explaining the importance that jazz has on the African American culture. Since Joe Gardener was a little kid, his father taught him all about jazz and he fell in love when he first listened to some musicians playing in a bar. 
Throughout the movie, we can see how Joe Gardener grows as a person with the help of 22 and learns that even the most tiny things in life are the ones that really matter and make you who you are. 
Soul is a really enjoyable film and includes fun and interesting characters that have unique personalities that evolve along with the story. Their personalities portray real life personalities and this way it makes the movie watchers feel the same way as the characters are feeling. The soundtrack from the movie is also powerful and beautiful and helps the audience connect with the characters and story. The animation is really similar to Inside Out since both movies are directed by Peter Docter and have the same essence and warm colors.  It is a really emotive story that definitely gains the spectator's full attention with its strong message,  and conveys that you have to live in the moment no matter what life throws at you. 
Leave a Comment
About the Writer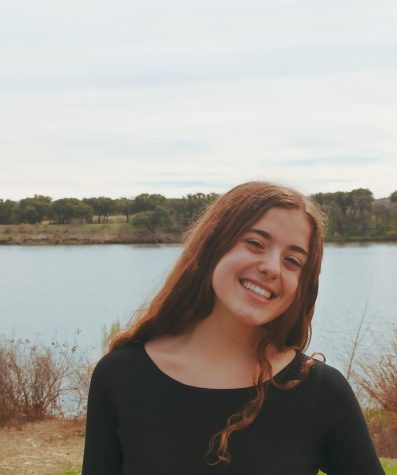 Lucia Santaolalla, Dreamcatcher Editor in Chief
Class of 2022

Hi! This is my third year in press and I'm really exciting to work with everyone. I'm a really passionate person when it comes to my hobbies...