Hurricane Ida Leaves Louisianans Powerless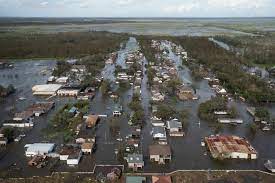 Louisiana is no stranger to imminent weather threats, the most recent being Hurricane Ida- a Category 4 hurricane that made landfall around noon on Sunday, Aug. 29. This natural disaster hit Louisiana hard and left many homes and businesses wrecked in its wake. Several sources reported that this storm was among the worst natural disasters Louisiana has faced since the 1800's. One person was pronounced dead as a direct result of Hurricane Ida. It is still unclear if more deaths occured and went  unaccounted for, but it is expected that these numbers will emerge in the coming weeks.
Ida arrived on shore on the 16th anniversary of Hurricane Katrina, yet another destructive hurricane that Louisiana faced back in 2005. 
The National Hurricane Center reported that the winds of Ida climbed up to 150 mph. As of Monday, Aug. 30, more than 1 million were reported to be without power in the impacted region; this number included over 990,000 in Louisiana and 30,000 in Mississippi. It has also been confirmed that all eight transmission lines that deliver power to New Orleans are out of service due to line damages. 
"Currently there is no backup power to operate any of those that were impacted," the Sewerage & Water Board of New Orleans said. "They have since asked that residents limit their use of water at home to limit the amount of wastewater released.
On Sunday night, President Joe Biden approved Louisiana governor John Bel Edwards' request for a major disaster declaration, through which federal agencies are directed to contribute to state and local recovery efforts. The damage that authorities continue to uncover following this deadly storm is comparable to that of Hurricane Katrina. Ida is currently tied with Hurricane Laura and the Last Island Hurricane of 1856 as the state's most powerful storm to date.
Fortunately, a light at the end of the tunnel is foreseeable for the residents of Louisiana.  Recovery and relief efforts are currently underway in the heart of the destruction, and it is reported that there are 21 urban search and rescue teams from various states ready to aid Louisianans. At the time of this article, volunteers from Minnesota have recently been deployed to help those in Louisiana.