The Crystal Works: An Enchanting Austin Excursion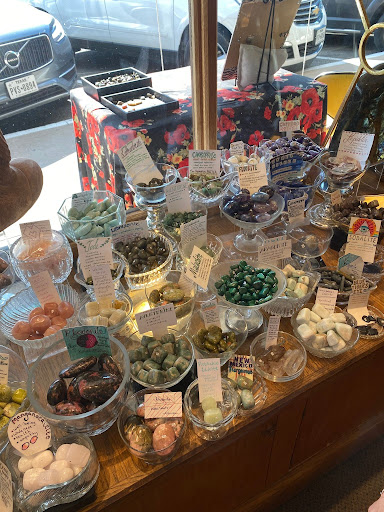 Back in mid-September, a couple of friends and I ventured to downtown Austin to shop and grab lunch. A few weeks back, a friend had informed me about a cool, woman-owned crystal shop that she and her friends enjoyed visiting whenever they went downtown. As a person into spirituality and a lover of crystals, I decided to visit there myself. When I had originally heard about this store, I expected it to be similar to other spiritual shops I had visited in the past. However, upon entering the shop, my former expectations were contradicted as I found myself enveloped in a mystical ambiance, far more exciting than any of my previous experiences. 
Upon arrival, we were instantly mesmerized by the contents visible in the front window. We sat in awe, gazing at the dreamcatchers, macramé amulets hanging from the ceiling, and the massive quartz towers and raw amethyst chunks crowding each other across the shelves. If all that we could see from the outside allured us that significantly, we couldn't help but imagine the excitement waiting for us inside. 
Unfortunately, we were informed by an employee that they were limiting the number of people in the building at a time as a COVID-19 precaution, and due to this, there would be a 30 minute wait. Although the news of this wait was momentarily disappointing, I was pleased to learn that the store was being mindful in consideration of the pandemic. 
After 30 minutes, we returned to the store. As we waited outside for a few more people to clear out, we took notice of a bowl of tiny crystals on a table by the front window. The employee informed us that we were each allowed one free crystal from the bowl. I picked out a cute green aventurine, pleased by this fun freebie. 
As we entered the store, animation was immediately brought to each of our faces. The inside of the store was a menagerie of hanging jewels, oils, and candles, in addition to a galore of spiritual products in general. Everywhere I looked, I found myself drawn to another intriguing item, even something as simple as a red jasper pendant or a wide collection of zodiac-assigned herbal candles caught my eye. I was overwhelmed in the best possible way by this room of treasures, and I had absolutely no idea where to begin my browsing. 
By the front window of the store, there was a large collection of bowls containing a wide variety of small tumbled crystals. The left walls were adorned with larger, raw crystals, and in this area, I found myself particularly amazed by a grape agate chunk, a uniquely shaped crystal I had only seen before in pictures. The right side of the store consisted of various spiritual items such as candles, incense, essential oils, and smudging kits. Lastly, the center of the store was an island boasting a detailed selection of beautiful crystal jewelry. 
One thing that significantly stuck out to me was the brilliant customer service. During our visit, there were two women working in the store, one working the register within the island in the middle and the other welcoming customers and checking out more purchases by the door. Our first impression of the store was how sweet and amiable the employee at the door was. Even though she had to inform us about the wait, she managed to make us feel welcome and accommodated. 
The employees created an environment where we felt completely comfortable to ask questions or start conversations. The lady at the register amazed me with her ability to carry genuine conversations with the customers, rather than doing the bare minimum. She didn't simply carry on minimal conversations about purchases or products with the customers, as she noticeably made an effort to connect with the customers, even if they didn't approach her first. She not only accommodated her customers, but built connections with them, which I found truly impressive.
At first, we expected this to be a brief trip, but the store's inventory was plentiful and intricate, drawing out the time we spent browsing and admiring. I had two friends there with me who had never shown interest in crystals and were merely tagging along. Despite their previous disinterest, they enjoyed their visit to the store just as much as my more spiritually inclined friends and I. One of my friends who had never been interested in crystals before actually ended up buying a small quartz heart and a tumbled botswana agate stone for anti-anxiety, and she expressed great excitement over her purchases.
After much exploration, I finally decided on what I wanted to purchase. I ended up choosing a beautiful tumbled goldstone, which aids in ambition and drive. I have always admired goldstone's brilliance and in general, I felt significantly drawn to it. Some believe that the crystals you feel most drawn to aid with the qualities you need most at that time, so this feeling played a role in what I ended up buying. I also decided to purchase a beautiful rainbow fluorite bracelet, which is intended to benefit creativity and connection. 
I was beyond happy with my experience at this store, and I did not expect to be that amazed. I recommend the Crystal Works to anybody seeking spiritual items or even for people who simply want to visit a fun and enlightening Austin attraction regardless of their spiritual inclinations. 
---
Final Rating: 5/5
908 West 12th Street
Austin, TX 78703