All Too Unwell: 'Red (Taylor's Version)' Resurfaces Decade-Old Emotions
Happy, free, confused, lonely, devastated, euphoric, and wild. These were only a few of the multitude of feelings that overcame fans as they listened to Red (Taylor's Version) for the first time. With iconic tunes like 22 and I Knew You Were Trouble revamped, this album's continuous impact on pop culture and songwriting remains indisputable even after a decade.
Swift has been re-recording her first six studio albums in an attempt to regain control of her artistic freedom after the original copies were sold to Scooter Braun of Ithaca Holdings following the scandal between her and her old record label. In April 2021, she released the first re-recording, Fearless (Taylor's Version). 
On June 18, Swift announced that the next re-recording she would be releasing was Red (Taylor's Version). The album consisted of 30 songs, an impressive feat for a singular project. It included re-recordings of the 22 songs on the original deluxe version of Red and eight songs "from the vault." With this album, Swift broke free of the restrictions from her old label and employed updated musical and production elements to craft her distinctive sound. 
"Musically and lyrically, Red resembled a heartbroken person," Swift said in her album announcement. The album itself is full of tumultuous feelings, oscillating between blissful joy and unadulterated pain. There is no certain order to these emotions, just as there isn't a systematic way for a heartbroken person to heal. 
"
The album itself is full of tumultuous feelings, oscillating between blissful joy and unadulterated pain.
The initial sparks of Red (Taylor's Version) ignite with State of Grace (Taylor's Version) to mimic the explosion of euphoria found in a new relationship and the anticipation that overcomes everyday life. It captures a beautiful beginning to a relationship that was meant to be everlasting, but as the album continues, these hopes are shattered. Later on the album, Holy Ground (Taylor's Version) reminisces on these initial heavenly feelings, which have transformed into nostalgic memories. Accompanied by a strong rhythmic beat and evocative guitar chords, this song is a quintessential example of the all-consuming emotions Swift encapsulates in Red (Taylor's Version). 
In Treacherous (Taylor's Version), the initial feeling of infatuation develops into vulnerability, which Swift compares to a "treacherous" slope. Lyrics like "I can't decide if it's a choice / getting swept away" and "forever going with the flow / but you're friction" illustrate that Swift is hesitant about fully committing to the relationship, but she can't deny the passion she feels. The escalation of the percussive and vocal elements in the bridge of the song was especially enthralling, painting a picture in the listener's mind of the pinnacle of emotions in the relationship. This re-recording easily surpassed the original due to Swift's powerful vocals and updated production elements. 
With The Lucky One (Taylor's Version), Swift tells the story of a young girl thrust into stardom, exposed to the world of camera flashes and personal information being "splashed on the news front page." In this expressive narrative, Swift depicts the progression from dreaming of playing in Madison Square Garden to being content with tending to a rose garden. In the lakes from Swift's Grammy-winning album folklore, she also uses the rose as a metaphor, portraying her experience with handling the cruelty of the media. It's almost bittersweet to listen to as Swift revisits the time of her life where she was unfamiliar with such circumstances. 
Although fans were excited to hear Swift's version of the original album, it was the eight vault songs that really piqued their curiosity. The naming conventions for these songs were admittedly perplexing, as I Bet You Think About Me (feat. Chris Stapleton) (Taylor's Version) (From The Vault) is undoubtedly one of the most absurd titles I've ever seen. However, these songs delivered in all other aspects. They brought new perspectives on the intricate story of heartbreak that Red tells with the featured artists adding an extra element of complexity that the original lacked. 
The vault song that was truly exceptional was Better Man (Taylor's Version). Swift's rendition of the song she wrote for country group Little Big Town takes her original wistful lyrics and combines them with acoustic guitar strumming to create a ballad worthy of screaming along to. Swift depicts the feeling of knowing you're better off without someone, but despite that, still longing to be with them. Better Man (Taylor's Version) truly represents what brought the star to fame, showcasing her country roots and talent at combining emotive melodies with expressive lyrics once again. 
Vault songs Message in a Bottle (Taylor's Version) and The Very First Night (Taylor's Version) were extremely surprising in their production. I was immediately drawn to the electric feel and uplifting lyrics of these songs. Upon first listen, fans immediately observed a resemblance to songs from Swift's highly acclaimed 1989, a classically pop album that was the next to be released after the original version of Red. While the vault songs on Fearless (Taylor's Version) were the epitome of the country genre, fans were able to hear songs that transcended the barriers between Swift's eras in Red (Taylor's Version). 
Perhaps the most highly anticipated track off of this album was the ten-minute version of All Too Well, a song that captivated the shattered hearts of fans worldwide. It's been known for a long time that an extended version of this song existed, and many speculated that it would be included on Swift's version of Red when it was released. Their hopes were more than fulfilled in these ten minutes and 13 seconds of intense cardiac suffering. 
The lyrics of the original song were burned into the crevices of my brain, and hearing the new verses integrated so seamlessly was surreal beyond the point of articulation. Timeless heart-wrenching lyrics such as "you told me about your past thinking your future was me" in conjunction with new equally excruciating ones such as "you kept me like a secret / but I kept you like an oath" comprise the anthem that will surely empower a new wave of heartbroken individuals. Swift also released All Too Well: The Short Film starring Dylan O'Brien and Sadie Sink a few days after the album was released. This film brought the complex story of All Too Well to life, providing a visual account of the heartbreak Swift endured when she wrote this song.  
An artist has to be of a certain caliber to release an album that is mainly songs the world has already heard and have it be just as captivating as the original, if not more. When Red was originally released in 2012, it was deemed childish and inauthentic by critics. At that time, Swift was still considered a country artist who was on the cusp of her transition to pop. Now that she is an established superstar in multiple genres, the world can properly experience Swift's songwriting prowess the way her fans always have. 
"
Now that she is an established superstar in multiple genres, the world can properly experience Swift's songwriting prowess the way her fans always have. 
Despite the success Swift has had with several projects since 2012, her dedication to the re-recordings is palpable. Swift fearlessly acknowledges her old music and the feelings she was going through at that time without any semblance of regret or embarrassment. It's especially touching to hear her reminisce on her past fragmented relationships now that she has been happily committed to her boyfriend, Joe Alwyn, for over five years. It's almost like Swift is reminding her fans that their hardship won't last indefinitely, and they will find the person they are meant to be with just as she did. 
With Red (Taylor's Version), Swift takes us on a journey from the "note on the door with a joke they'd made" to the "crumpled up piece of paper" lying in the very same place. Just as this album helped fans pick up the pieces of their fractured hearts, creating the album helped Swift process her feelings and strengthen her relationship with herself and her fans. 
"Like trying on pieces of a new life, I went into the studio and experimented with different sounds and collaborators," Swift said. "I'm not sure if it was pouring my thoughts into this album, hearing thousands of your voices sing the lyrics back to me in passionate solidarity, or if it was simply time, but something was healed along the way."Swift has plans to re-record four more albums: Taylor Swift, Speak Now, 1989, and Reputation. She is notorious for concealing "Easter Eggs," or clues that hint to future projects, within her music videos and performances. The latest effect of that tendency was fans fervently theorizing that 1989 (Taylor's Version) might be the next re-record merely based on the color of the lights at her most recent concert. With her penchant for making plans secretly and keeping fans on the edge of their seat, who knows what Swift will delight the world with next?
Leave a Comment
About the Writer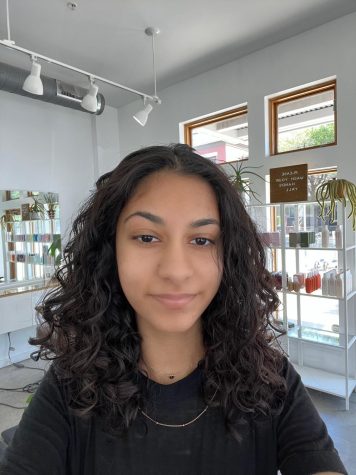 Aanika Hirode, Arts & Entertainment Editor
Class of 2023

When I'm not panicking about academics, I spend a concerning amount of time watching Gilmore Girls and trying to figure out the release...