Schools Shouldn't Shut Down Amid New Variant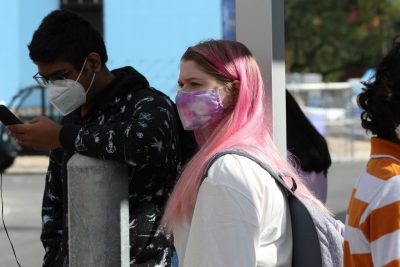 For the past three weeks, and with winter break traveling, the new COVID-19 variant Omicron has made its place in the world. By being the most contagious variant of all, Omicron has expanded throughout the U.S., leaving more than one million cases on Monday, Jan. 3.
With all the new cases, many people have shown concern about reopening schools after winter break.
"Right now we are in stage five which is really close to stage six, and state six was last year, when everything closed down. Cases are extremely high right now," Aubrianna Carter '23 said. "Everyone is getting Covid. People are still not wearing their masks, and it is really concerning because there are people that are out there that have diseases, and if they get Covid they could possibly die."
Omicron is a contagious variant, and even though it is not as deadly as the others, we need to take serious precautions against it. One of them, and the most important one, is vaccines. It has been proven that they save lives and have done an excellent job of protecting us since they were first released.
Another valid measurement would be closing schools. This could be done until everything calms down and cases drop. However, we can't keep students at home for the rest of the year.
However, while learning at home may be the safest alternative, many studies have shown how COVID-19 has negatively impacted students' mental health.
A survey made by "Active Minds" one month after schools closed in 2020 showed that "20 percent of college students say their mental health has significantly worsened under COVID-19" just during the first month of the lockdown. The pandemic and closure of schools have made me feel really anxious for not knowing what would happen next and not being able to socialize with my friends and classmates in school. Closing schools again and making students go online again is not the best solution for mental health and there are many more options available to decrease the COVID-19 infections.
Every student needs to get their vaccines and wear their masks while being inside closed spaces. It is really easy for people to be able to breathe under a piece of cloth if they don't suffer from any respiratory diseases like asthma. Quarantine is also essential to do even if you are not positive but have been in close contact with someone who is. Five days of quarantine are not enough for the virus to disappear from your system. We should go back to staying home for 14 days when your test comes positive.
Everyone must understand the seriousness of the pandemic, and we all need to make sure to be protecting ourselves and our loved ones. This virus won't go unless we all do the right thing, which is following the protocols and safety measures.