Westwood Students Place at Stony Point Battle of the Bands
On Saturday, March 26, four Westwood students performed as part of Bad Zebra, a rock quartet, at Stony Point High School's Battle of the Bands competition. Despite only holding around two weeks of rehearsals, the group placed third out of six competing bands, earning a $100 cash prize. 
Friends of the band arrived carrying signs and provided a supportive atmosphere for the band to perform. The group tore through three songs, with the first being a cover of Sweet's The Ballroom Blitz, proving to be a showcase for all four members' talents. Drummer Cade Morton '22 supplied a fast-paced shuffle beat that anchored the song. 
"It was pretty exhilarating to play the drums for a live audience for the first time, [and was] an awesome experience that I won't forget," Morton said. 
Lead singer Evan Martinez '22 imbued it with a charismatic style, alternating between smooth verses and nearly shouted choruses, while guitarist Oliver Barnfield '23 shared expressive backing vocals with Colin Partridge '22, who also had a bass solo. The band took to the stage with matching outfits, being the only band to do so at the Battle. Intended to look like Zebras, the quartet wore white dress shirts, black ties, and black basketball shorts. They also carried onstage a small and slightly creepy doll that they called Harold. After Ballroom Blitz, the band directly segued into Modern Baseball's Your Graduation, a sadder song built around Martinez and Barnfield's impassioned delivery of the spiteful lyrics and aided by creative drum fills from Morton. 
"I would've never thought I would've found the best group of band members to be in a band with," Martinez said. "And even better, to perform for people with these band members. It was the most fun I have had, and I'm so glad we can call [ourselves]a band." 
After a brief interlude in which Martinez introduced his bandmates, a rendition of Hitchin' A Ride by Green Day closed the set, boasting a catchy guitar and bass pattern centered around Partridge's deep bass sound. With a marching beat and crunchy guitars, it was a raucous and entertaining end to the short concert. After their set finished, the members of the band and their friends watched the five other bands perform. 
"The Battle of the Bands is more amazing and incredible of an experience than I could've ever expected," Partridge said. "It wasn't just a contest. It was a performance, a meetup, a social event, and a party."
View Comments(1)
About the Contributor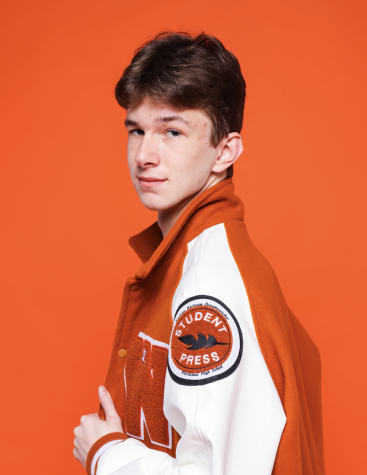 Oliver Barnfield, Video Editor
Class of 2023

I am currently Westwood Horizon's video editor, and also one of the hosts of Friendcast, our website's podcast video series. In addition...