Three Varsity Tennis Athletes Clench State Qualification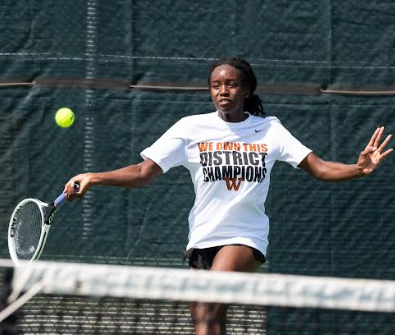 With the sun and pressure on the backs of the athletes last week, the varsity tennis team took nine players to the region tournament on Tuesday, April 12 and Wednesday, April 13, with three qualifying for state. Only eight athletes qualify for state in each event, and the top two winners of each district compete for a spot for state. The tennis team had more athletes make semi-finals than any other team at the tournament.
"It was fun," Aadhi Raja '23 said. "Last year we got really close and it was really sad when we lost because we had multiple match points to go to state. This year when we made it, it was really nice and cool. Dream come true."
The following players will be moving on to the State Tournament from Tuesday, April 26 to Wednesday, April 27.
Girls' Singles
First Place: Kinaa Graham '23
Boys' Doubles
Second Place: Aadhi Raja and Aashish Dhanani '22
Mixed Doubles (State Alternate)
Third Place: Kyle Grimes '22 and Dana Kardonik '24