Students Speak Out on Campus Safety Following Massacre in Uvalde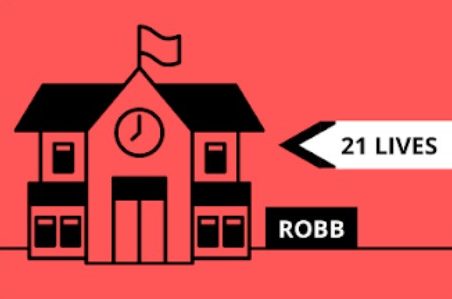 In the third deadliest school shooting in U.S. history, an 18-year-old gunman killed 19 students and two teachers at Robb Elementary School in Uvalde, Texas on May 24. The massacre shocked and terrified many students. Following the shooting, students reflected on school security measures, such as the unlocked back door in Robb Elementary School that the gunman used to enter the building.
"I was really upset [after hearing about Uvalde]. In fact, I cried that night that I heard about it," Ishira Limaye '25 said. "I just felt like [school shootings are] happening so often and people aren't doing enough to prevent [them]. What are we doing? Why are we just sitting here and letting [school shootings] happen? If you look young enough, you could just knock on any door and someone would let you in. The school isn't that secure at all."
The police at the scene of the shooting were widely criticized for what was considered a delayed response to the armed threat, which could have potentially cost some of the victims their lives. Some students felt that the events in Uvalde changed the way they saw school safety.
"I [thought] it was kind of ridiculous how the police just stayed outside for about an hour even though the shooter was still in the building," Angela Fu '25 said. "[Uvalde] made me realize how dangerous [school shootings] can actually be. I always thought they were something out of the past and I [couldn't] really imagine [them] happening to anyone."
The situation sparked controversy over what should be done to prevent more school shootings, with suggestions such as stricter gun laws, more police protection for schools, or regular backpack checks. Some students feel safer having School Resource Officers (SRO) nearby.
"There were a few incidents where [things] happened off-campus somewhere and we had those lockdown drills," Kriya Handa '25 said. "But to be honest, even during the lockdown drill, even with all those emails from the principal, I still felt very safe because I knew that our school has amazing officers and they were really good at handling those kinds of situations and I had full trust that they were taking care of it well."
There have been 27 school shootings in the U.S. in 2022. "School shootings" are defined as situations on school property that occur during school when a firearm is discharged and an innocent individual is shot. The statistics and news surrounding mass shootings have led some students to feel like the likelihood of a school shooting at Westwood has increased.
"I wasn't that stressed out about [the lockdown at Westwood High School], I was actually very weirdly calm about it," Limaye said. "You always think, 'Oh, [a school shooting] is going to happen to other people. This sort of stuff always happens to someone else.' But we're all someone else to someone else. So you never know when it could happen to you."
In the weeks since Uvalde, the U.S. has faced 20 mass shootings. Despite this, no political action has been taken to prevent them from occurring.