Boys Waterpolo Dominates Over Midway During Season Opener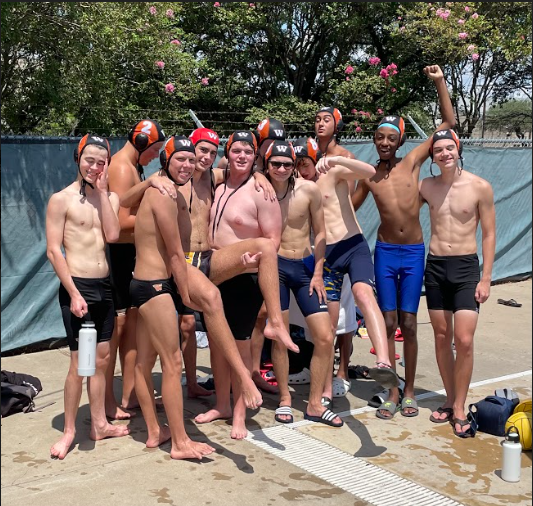 The boys' water polo team competed in their first UIL match on Saturday, Aug. 27, that went all the way down to the wire, ending in a 13-11 victory for the Warriors over Midway.
"I think there are definitely some things we need to clean up, but at the end of the day we won the game," Co-Team Captain Freddy Browarski '24 said. "I think it is a great way to start the season, and I am looking forward to seeing where it goes from here."
The Warriors opened the game in a dead heat with Midway. It was a very back-and-forth quarter for the two teams, with the Warriors taking the first quarter 4-3 with help from a goal by Browarski, a goal by Zachary Hobbs '24, and two goals from Alexander Milliam '24 early on in the game. 
"Midway is a good team," Team Goalie and Co-Captain Jack Benveniste '24 said. "I feel like we played really well against them, and I am very happy with how we did against them. This is gonna show that we are winners and that we can make it all the way to state this year."
The next two quarters were just as close, with both teams maintaining consistent game strategies. Both quarters ended with 3-2 leads for Westwood making the score 10-7 heading into the final quarter. During the fourth and final quarter, Midway took control of the game and outscored Westwood 4-3. Luckily for the Warriors, Hobbs was able to score a goal, helping the team secure the victory.
"I think Midway did a fantastic job staying in the fight," Cole Osborn '25 said. "It was a well-fought game and in the end, we ended up on top."
The win for the new team set high goals for the future. However, the Warriors are still prepared to continue practicing and learning for their next matches.
"I think we played great," Coach Matthew McBrearty said. "We have a lot to learn, I mean they had momentum a couple times, but we kept composed, and stayed strong. I think this win is a motivator, and being able to see what we did right and wrong is exciting."
The Warriors have nothing on the schedule yet, but will soon play in a tournament next week.